Battery Tender 24v 2.5 Amp Power Tender Plus Charger PT24v022-0158
Price:

$

78.00
No Tax

BatteryStuff Part #:
PT24v022-0158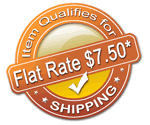 This Qualifies for FLAT RATE Shipping of $7.50 per order*
This charger not recommended for some particular aircraft batteries. call for info
Battery Tender 24v 2.5 Amp Power Tender Plus Charger PT24v022-0158
Product Description
This WATERPROOF, Shock & Vibration Resistant, Lightweight (LESS THAN 4 POUNDS), compact charger is designed for either portable operation or permanent mounting. Charges and maintains both flooded and sealed, maintenance free, AGM, lead acid batteries. Float / Maintenance function maintains batteries at proper storage voltage without the damaging effects caused by trickled chargers. The Power Tender PLUS is easy to use, it's rugged, its compact, it's packed with power, and it's backed by the reputation of the undisputed battery charger industry leader, DELTRAN.
Excellent charger for 24 volt stand-by systems such as generator sets. Each charger comes with one fused quick disconnect ring set.
This charger should not be used with true Gel Cell batteries. If you are in doubt as to what type of battery you have please call us, as most times other maintenance free type batteries are incorrectly identified as Gel Cell batteries.
Features
WATERPROOF!! Shock & Vibration Resistant
Lightweight–LESS THAN 4 POUNDS!
Microprocessor Controlled Technology
Charges both flooded & sealed maintenance free lead acid batteries.
Charges any size (capacity) lead acid battery.
Reverse Polarity Protection (VIA EXTERNAL IN-LINE FUSE).
Complete FOUR-Step Charging Program (Initialization, Bulk, Absorption, & Float / Maintenance).
Comments
This Charger NOT RECCOMENDED for Teledyne GILL batteries *Flat Rate shipping is for the lower 48 states only.
Most Helpful Customer Reviews

Tecnico diesel

By

juangrau@yahoo.com

on Dec 12, 2011,

Ownership:

Just Bought,

Knowledge Level:

I know what an outlet is

(84 of 176 customers found this review helpful)

Pros: Me gusta el producto, y me gustaría venderlo mas frecuente que descuento adicional me pueden dar?

Cons: Seria de gran ayuda si pudiéramos contar con un proveedor que hable español y tener una linea directa con el vendedor.

Other Thoughts: Me encanta la linea de productos de ustedes, Los felicito

Review Summary

5.00 Average Rating

Rated

5.00

/

5

Stars from

1

customer reviews.

Write Your Own Review

Do you own the PT24v022-0158? Please, tell us what you think about it. It helps us provide you with better products. Please note that it may take up to 72 hours for your review to appear.

Write a review


Technical Specifications
Length
5
Width
4.9
Height
2
Weight
3.5
Shipping Weight (lb.)
4.0
Max Current, During Bulk Charge
2.5 A
Absorption Voltage
29.4 V
AC Input Amps
1.2 A RMS
AC Input Volts
115 V
AC Input Volts Freq.
50/60 Hz
AC Input Volts Range
90–132 VAC
Float Voltage
26.4 V
Enclosure
Powder Coat Aluminum
Output Banks
1
Recommended Use
Powder Coat Aluminum
Warranty
2 Year
Manufacturer:
Deltran
Manufacturer Part #:
PT24v022-0158
Made In:
Asia
Instruction Manual

Download Warranty Information
Order Line: 1-800-362-5397
M–F 6am–5pm PST

Tech Help: 541-474-4421
Fax: 541-471-6014
276 Tech Way, Suite A
Grants Pass, OR 97526