Rayovac AA/AAA NiMH Hybrid Battery Charger with Batteries PS32-2BC
Price:

$

14.00
No Tax

Not In Stock
BatteryStuff Part #:
PS32-2BC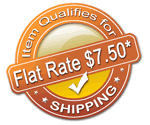 This Qualifies for FLAT RATE Shipping of $7.50 per order*
Charger includes 2 each AA and AAA Hybrid NiMH batteries, and will charge ANY NiMH AA/AAA batteries.
Rayovac AA/AAA NiMH Hybrid Battery Charger with Batteries PS32-2BC
Product Description
Save 100's of dollars by using rechargeable Nickel Metal Hydride (NiMH) vs. Alkaline Batteries.
Get the absolute best of both worlds with the Ray-o-vac Hybrid technology NiMH batteries. This charger will charge both standard NiMH AA and AAA batteries, as well as the new hybrids.
Features
Compact design with flip up wall plug
Meet the demanding power needs of today's high-tech devices
No "memory" problems; recharges any time, even if partially drained.
Charger ships with 2 AA 1800 mAh NiMH Hybrids
Rayovac's charger will work with any other brands of NiMH rechargeable batteries
Non-Toxic no special requirements for disposal
Comments
Please take the time to read our
NiMH Frequently Ask Questions
. *Flat Rate shipping is for the lower 48 states only.
Most Helpful Customer Reviews

Great Charger

By

James Ville

on Aug 09, 2011,

Ownership:

Use regularly,

Knowledge Level:

AC/DC is more than a band

(88 of 169 customers found this review helpful)

Pros: The Charger plugs right into the wall outlet. It doesn't get hot or make any noise. It's compatible with both AA and AAA, so I get to use it a lot.

Cons: The Light on the Charger stays on when a battery is connected, and it doesn't turn green or anything to indicate fully charged state.

Other Thoughts: I like the sleek design. I've had a couple of other chargers, but none like this. I really like this one.

Review Summary

5.00 Average Rating

Rated

5.00

/

5

Stars from

1

customer reviews.

Write Your Own Review

Do you own the PS32-2BC? Please, tell us what you think about it. It helps us provide you with better products. Please note that it may take up to 72 hours for your review to appear.

Write a review
Technical Specifications
Length
4.5
Width
2.9
Height
1.8
Weight
.4
Shipping Weight (lb.)
1
AC Input Volts
120 V
AC Input Volts Freq.
60 Hz
Regulatory Approval
UL Listed
Model:
PS32-2BC
Manufacturer:
Rayovac
Manufacturer Part #:
PS32-2BC
Made In:
China
Order Line: 1-800-362-5397
M–F 6am–5pm PST

Tech Help: 541-474-4421
Fax: 541-471-6014
276 Tech Way, Suite A
Grants Pass, OR 97526