view large photo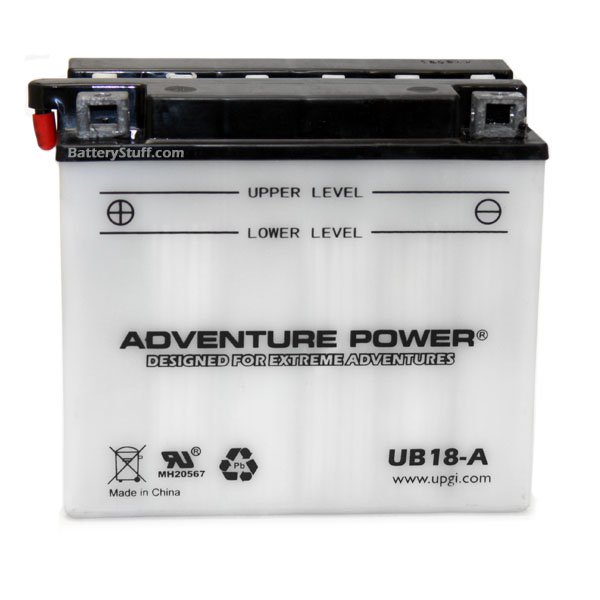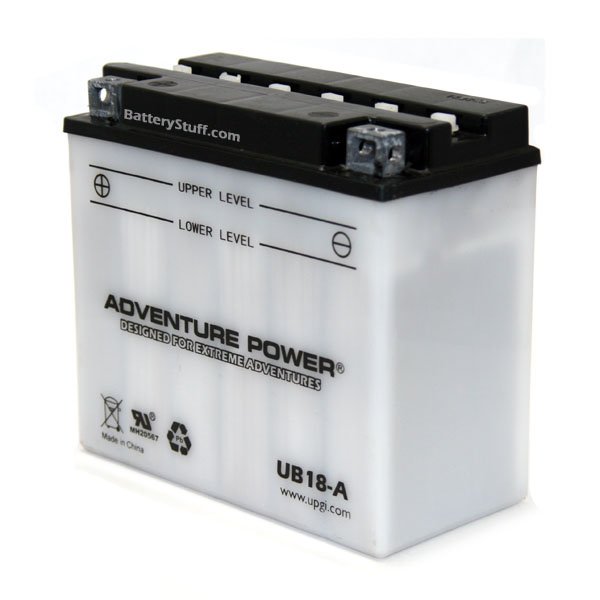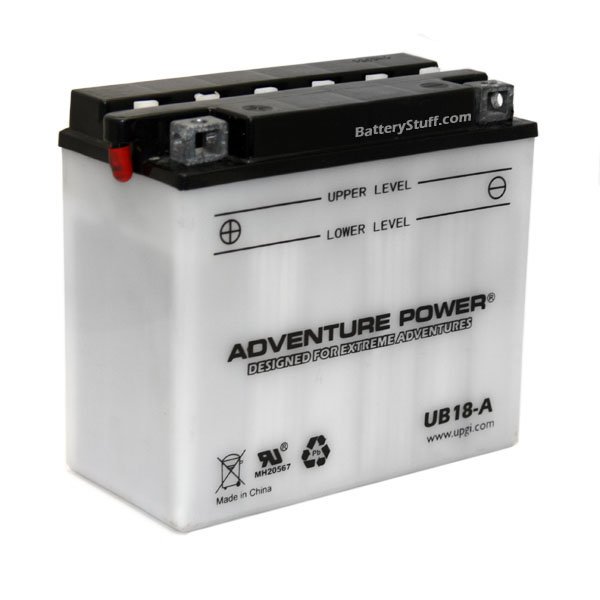 UB18-A Adventure Power 12v 235 CCA PowerSport Wet Battery w/ Acid Pack
UB18-A
Free Ground Shipping Shipping to lower 48 states.
Out of Stock
Includes acid pack for correct and simple activation!
NO AIR TRANSPORT AVAILABLE
Replaces: YB18-A
---
Product InformationStore Part Number: UB18-A
Overview
Replaces: YB18-A
UB18-A Adventure Power by UPG High Performance wet cell is not an ordinary replacement battery but a specially designed rugged and powerful glass mat battery. The Adventure Power High Performance batteries typically offer true higher cranking amps and additional reserve capacity as compared to other replacements batteries. These batteries are shipped in specially designed packaging which includes the correct amount of electrolyte; end user must add electrolyte and activate battery. Offering vibration resistance and low internal discharge rate, you will achieve longer physical endurance and superior off-season storage potential. However, for long-term storage (30 days or more of non-use), we recommend a maintenance charger.
Features
Customer activated battery ships with acid pack
Special active battery plate compound allowing greater dependability
Heat sealed polypropylene case resist extreme conditions
Sealed posts prevents corrosion
Greater resistance to vibration damage
Safety valve relieves excessive pressure
Thru-Partition construction permits more cranking amps Price includes FREE GROUND DELIVERY 48 STATES
NO AIR DELIVERY due to acid pack
Comments
BatteryStuff.com offers Adventure Power high quality, high performance batteries at a discount rate, so you never have to overpay for a battery again!
---
Tech Specs
Dimensions (LxWxH): 7.09 x 3.54 x 6.42 in
Weight: 13 lb
Shipping Weight: 15 lb
DC Output Voltage: 12 V
Amp/Hr: 18
Model: UB18-A
Manufacturer: Universal Power Group
Battery Polarity:
C.C.A.: 235
Recommended Max Charging : 5.4A
Cycle Life: 350
Terminal Type: G
Manufacturer Part #: UB18-A
Made In: Asia
---
Customers who bought this product also bought:
---
Reviews and Ratings
---
Manuals & Tutorials