view large photo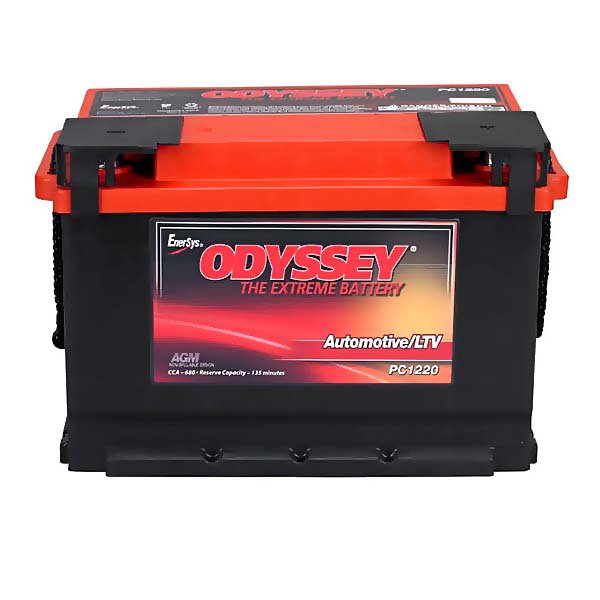 PC1220 Odyssey 12v 680 CCA High Performance Automotive AGM Battery
PC1220
Typically used in High Performance Hot Rod and other Aftermarket upgrade applications
---
Product InformationStore Part Number: PC1220
Overview
When only the absolute best will do, Odyssey will get you there. With more built in starting power than any other battery of its size, this battery is guaranteed to get the job done! Delivers an amazing 1220 cranking amps for the first 5 seconds of discharge. This is when the power is needed most, to get your high compression, high horsepower engine turning. The PC1220-A battery have a full 4 year warranty, underscoring the devotion to quality that only Odyssey can achieve time after time.
Features
Near bulletproof "Drycell" sealed design
Military grade
Vibration and heat resistant
Withstands deep discharge
Up to 2 year shelf life
Should last 10+ years based on manufacturer design
Can be mounted in any orientation
1220 Cranking amps for the first 5 seconds
Comments
Actual CCA by SAE standard at 680(CCA is tested at 0 deg for 30 seconds until voltage reaches 7.2 volts) Some Applications May Require Slight Modifications: Not An Exact Replacement



RECOMMENDED ADAPTER

OA-pair
These are screw in terminal adapters for an Odyssey Battery. This gives you the ability to use automotive style connections.
---
Tech Specs
Dimensions (LxWxH): 11.89 x 6.88 x 7.48 in
Weight: 55 lb
Shipping Weight: 58 lb
DC Output Amps: 1220
DC Output Voltage: 12V
Model: PC1220
Manufacturer: Odyssey
Amp/Hr: 70
C.C.A.: 680, see actual specs
OEM Ref: PC1220-A
Charged: Ready to Install
Warranty: 3 Years
Manufacturer Part #: PC1220
Made In: USA
---
Reviews and Ratings
---
Manuals & Tutorials