Rayovac AA NiMH Platinum Rechargeable Batteries 4 Pack PL715-4
Price:

$

12.50
No Tax

Not In Stock
BatteryStuff Part #:
PL715-4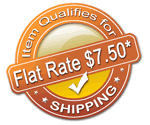 This Qualifies for FLAT RATE Shipping of $7.50 per order*
Ray-o-Vac Platinum Rechargeable NiMh batteries hold charge longer than any other rechargeable AA batteries.
Rayovac AA NiMH Platinum Rechargeable Batteries 4 Pack PL715-4
Product Description
Ray-o-vac NiMh Platinum Rechargeable batteries hold their charge better and longer while waiting to be used. These rechargeable batteries come pre charged and ready to use. They will hold their charge for up to 6 months and will work better than standard NiMh rechargeable batteries in long term devices. They can be recharged as many as 300 times, and works in ALL chargeres.
Features
4 pack 1.2V, 1800 mAh, NiMH AA Hybrid batteries
Fits all devices that use AA cells
Lasts up to a 1000X longer than alkaline batteries
Charge as often as you want-no memory effect
Up to 400 photos before needing recharge
Comments
Confused? Please take the time to read our
NiMH Frequently Ask Questions
.
*Flat Rate shipping is for the lower 48 states only.
Review Summary

0 Average Rating

Rated

0

/

5

Stars from

0

customer reviews.

Write Your Own Review

Do you own the PL715-4? Please, tell us what you think about it. It helps us provide you with better products. Please note that it may take up to 72 hours for your review to appear.

Write a review


Technical Specifications
Length
Standard AA
Weight
.3
Shipping Weight (lb.)
.5
Model:
PL715-4
Manufacturer:
Rayovac
Manufacturer Part #:
PL715-4
Made In:
China
Order Line: 1-800-362-5397
M–F 6am–5pm PST

Tech Help: 541-474-4421
Fax: 541-471-6014
276 Tech Way, Suite A
Grants Pass, OR 97526