Battery Tender 12v SAE Cigarette Lighter Adapter BTLighterA081-0069-5
Price:

$

6.95
No Tax

BatteryStuff Part #:
BTLighterA081-0069-5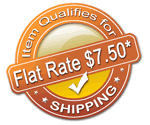 This Qualifies for FLAT RATE Shipping of $7.50 per order*
Fits Battery Tender, Battery Minder, and some Global Solar products.
Battery Tender 12v SAE Cigarette Lighter Adapter BTLighterA081-0069-5
Product Description
The Handy Quick Disconnect Male Cigarette Adapter with 15 inch length. This DC output lead set can easily connect to your Battery Tender and plug right into a female cigarette receptacle. Made for Battery Tender chargers, but this accessory will also work with other product lines as listed on our website. # 081-0069-5
Comments
* Flat Rate shipping is for the lower 48 states only.
Most Helpful Customer Reviews

Cigarette Lighter Adapter for the Battery Minder

By

Dave BatteryDrainer

on Mar 20, 2013,

Ownership:

Just Bought,

Knowledge Level:

Electricity doesn't scare me.. usually

(86 of 160 customers found this review helpful)

Pros: I took a chance hoping that the BTLighter Adapter, even though it was not from the same company (Battery Minder), would still work with the Battery Minder. And it did. The connection worked perfectly and plugs right into my constant battery cigarette lighter adapter. I needed this sense my set up would be all out doors, in all weather. So, I wanted to charge my battery in the safe, cozy and dry confines of the interior of my van. The Batter Minder (with this Battery Tender adapter) sit on the floor of my van plugged directly into the constant battery (not connected to the key) cigarette lighter. It charges my battery every weekend with no problems.

Cons: None, other than I had to call Battery Stuff to make double sure that the Battery Tender cigarette lighter adapter would be compatible with the connectors on the Battery Minder. Other than that, everything works perfectly.

Review Summary

5.00 Average Rating

Rated

5.00

/

5

Stars from

1

customer reviews.

Write Your Own Review

Do you own the BTLighterA081-0069-5? Please, tell us what you think about it. It helps us provide you with better products. Please note that it may take up to 72 hours for your review to appear.

Write a review