ChargeTek 12v 1.5 Amp 3 Stage Smart Waterproof Marine Charger CK150-1
Price:

$

69.00
No Tax

BatteryStuff Part #:
CK150-1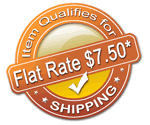 ChargeTek 12v 1.5 Amp 3 Stage Smart Waterproof Marine Charger CK150-1
Product Description
This is an excellent, rugged 3-stage charger/maintainer for any type of environment. Hermetically sealed from water, dust, and humidity, the Charge Keeper will charge batteries up to 3 times faster than conventional chargers of the same rating. Once battery is completely charged, the Charge Keeper will keep a battery at float charge and ready to use.
The Charge Keeper is best used to charge smaller batteries under 30 amp hours and maintaining batteries up to 100 amp hours. Typical applications are RV, marine, standby generator, personal watercraft, etc.
Features
Low Standby Current
5' AC cord and 6' DC output cord
Waterproof and Easy Install
Optimal 3 Step Charging
Built-in Mode Indicators
Spark-Free Hook Up
Reverse Polarity Protection
Over Voltage Protected
Short Circuit Protection
Thermal Protection
2 Year Warranty
Comments
* Flat Rate shipping is for the lower 48 states only.
Review Summary

0 Average Rating

Rated

0

/

5

Stars from

0

customer reviews.

Write Your Own Review

Do you own the CK150-1? Please, tell us what you think about it. It helps us provide you with better products. Please note that it may take up to 72 hours for your review to appear.

Write a review


Technical Specifications
Length
6
Width
3.16
Height
2.6
Weight
3.2
Shipping Weight (lb.)
4
Max Current, During Bulk Charge
1.7 A
Absorption Voltage
14.5 V
AC Input Amps
1 A
AC Input Volts
120 V
AC Input Volts Freq.
50/60 Hz
AC Input Volts Range
100–132 V
Float Voltage
13.5 V
Storage Temperature
-30° to 80° C
Enclosure
Fiber Glass and Epoxy
Output Banks
1
Regulatory Approval
UL Approved
Manufacturer:
Chargetek
Manufacturer Part #:
CK150
Made In:
USA
Instruction Manual

Download Installation Manual
Order Line: 1-800-362-5397
M–F 6am–5pm PST

Tech Help: 541-474-4421
Fax: 541-471-6014
276 Tech Way, Suite A
Grants Pass, OR 97526