ChargeTek 24v 10 Amp Waterproof On-Board Smart Charger RTIC-1210
Price:

$

255.00
No Tax

Not In Stock
BatteryStuff Part #:
RTIC-1210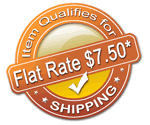 ChargeTek 24v 10 Amp Waterproof On-Board Smart Charger RTIC-1210
Product Description
Charging is controlled by an embedded microcontroller that contains software developed by and proprietary to ChargeTek. This electronic "brain" insures the battery will be fully and properly recharged regardless of its condition. The RTIC1210 precisely controls charging voltage and current to insure a complete recharge every time. The charger may be left connected indefinitely to the battery, maintaining full charge at all times.
The RTIC 1210 utilizes state of the art high frequency power processing that converts the AC line power to 24 VDC efficiently and safely. The charger is completely waterproof and sealed with UL approved 94VO flame retardant epoxy. This sealing also provides extreme vibration and shock resistance since the encapsulated unit is effectively a "brick".
Features
Comments
*Flat Rate shipping is for the lower 48 states only.
Most Helpful Customer Reviews

Chargetek 24v Smart Charger RTIC-1210

By

Anonymous

on May 13, 2013,

Ownership:

Don't Own,

Knowledge Level:

Genius is my way of life

(80 of 159 customers found this review helpful)

Pros: Excellent for outdoor generator use. We have sold many.

Cons: None.

Best charger i could have bought.

By

Anonymous

on Jun 16, 2016,

Ownership:

Use regularly,

Knowledge Level:

Electricity doesn't scare me.. usually

Pros: Bought 2 of these chargers for our company Muck Trucks, installed them and what a difference a fully charged battery makes. After the first charge with this charger you could see the difference in the power level and longevity of the batteries. Great chargers and extremely easy to install, after that its plug and play.

Cons: none

Review Summary

5.00 Average Rating

Rated

5.00

/

5

Stars from

2

customer reviews.

Write Your Own Review

Do you own the RTIC-1210? Please, tell us what you think about it. It helps us provide you with better products. Please note that it may take up to 72 hours for your review to appear.

Write a review


Technical Specifications
Length
8
Width
7'
Height
3.5
Weight
13.0
Shipping Weight (lb.)
14.0
Max Current, During Bulk Charge
10 A
Absorption Voltage
29.5 V
AC Input Amps
6 A @ 100 V
AC Input Volts
120 V
AC Input Volts Freq.
47/63 Hz
AC Input Volts Range
100–132 V
Float Voltage
27.2 V
Working Temperature
-10 ° to 50 °C
Output Banks
1
Regulatory Approval
UL Listed
Manufacturer:
Chargetek
Manufacturer Part #:
RTIC-1210
Instruction Manual

Download Manual
Order Line: 1-800-362-5397
M–F 6am–5pm PST

Tech Help: 541-474-4421
Fax: 541-471-6014
276 Tech Way, Suite A
Grants Pass, OR 97526