Interacter 48v 5 Amp Lineage Series Charger INTLS485
Price:

$

163.00
No Tax

BatteryStuff Part #:
INTLS485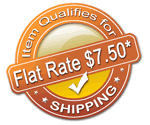 This Qualifies for FLAT RATE Shipping of $7.50 per order*
This line of chargers is a BatteryStuff favorite. Made to last in the USA.
Interacter 48v 5 Amp Lineage Series Charger INTLS485
Product Description
The Interacter Lineage Series battery charger is specifically engineered to meet the demands of the informed consumer who knows that today's Hi-Tech batteries must be charged correctly, at a competitive price. The Lineage Series features a microprocessor controlled system that out-performs industry standard chargers. The Lineage Series is suitable for charging true Gel-Cell, liquid electrolyte and most (AGM) absorbed glass mat batteries.
The Interacter LS series has a patented three stage constant current, constant voltage charging format. The most important feature of the Interacter is the exclusive proportional timing which automatically adjusts the recharge time in order to achieve optimal performance on old, partially or deeply discharged batteries.
Recommended for 48 volt battery systems in the 18 to 100 amp hour range. This charger can be used for both bulk charging and long term stand-by maintenance.
Features
Made in the United States
Low Start Voltage less than 2 volts
NO DC parasitic losses when AC is off
LED Charge Indicators
Modular Construction
Polarity Protection
Float Stage
Optimal 3 Step Charging
Spark Free Hook Up
Demand Sensing
Reverse Polarity Protection
Over Voltage Protected
Short Circuit Protection
Overload Protection
1 Year Warranty
Comments
* Flat Rate shipping is for the lower 48 states only.
Most Helpful Customer Reviews

utility

By

poobair

on Oct 09, 2013,

Ownership:

Use regularly,

Knowledge Level:

Genius is my way of life

(81 of 160 customers found this review helpful)

Pros: very reliable.

Cons: very heavy for the size

Other Thoughts: good portability

Interacter Charger INTLS485

By

Larry McGraw

on Oct 21, 2013,

Ownership:

Use regularly,

Knowledge Level:

Electricity doesn't scare me.. usually

(81 of 157 customers found this review helpful)

Pros: I plugged into outlet not knowing charger was in 2" of water. Of course the breaker tripped. Drained water and put a fan on the charger for 10 hrs. Plugged it back in and it works like a charm.

Cons: None, very happy.

Review Summary

4.50 Average Rating

Rated

4.50

/

5

Stars from

2

customer reviews.

Write Your Own Review

Do you own the INTLS485? Please, tell us what you think about it. It helps us provide you with better products. Please note that it may take up to 72 hours for your review to appear.

Write a review


Technical Specifications
Length
6
Width
6.5
Height
5.25
Weight
13.0
Shipping Weight (lb.)
14.0
Max Current, During Bulk Charge
5 A
AC Input Volts
117 V
AC Input Volts Freq.
60 Hz
Output Banks
1
Regulatory Approval
UL Listed
Manufacturer:
Interacter
Manufacturer Part #:
INTLS485
Made In:
USA
Instruction Manual

Download User Manual

Download Specifications
Order Line: 1-800-362-5397
M–F 6am–5pm PST

Tech Help: 541-474-4421
Fax: 541-471-6014
276 Tech Way, Suite A
Grants Pass, OR 97526