Battery MINDer 8v 1.3 Amp Charger Maintainer Conditioner - 12106A8V
Was: $69.95
Sale Price:

$

52.00

No Tax

BatteryStuff Part #:
12106A8V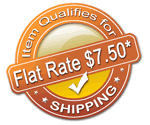 This Qualifies for FLAT RATE Shipping of $7.50 per order*
Charge and desulphate your 8 volt batteries without worry of overcharge! A BatteryStuff favorite
Battery MINDer 8v 1.3 Amp Charger Maintainer Conditioner - 12106A8V
Product Description
BatteryMINDer® 12106 is a 2 stage charger/maintainer/desufator that extends performance and life of 6 Volt lead acid batteries including flooded (filler cap, maintenance-free, valve regulated lead-acid [VRLA], sealed lead-acid [SLA]), starter, deep cycle and hybrid. It automatically dissolves harmful power-robbing sulfation using safe, low voltage, patented high-frequency pulse technology. Can be left connected for extended, non-use periods without overcharging. Unit can maintain up to four batteries at one time (6 Volt batteries in parallel) when connected in parallel by using SmarTechnology™ Y-Connectors (part# 210AY - Sold Separately)
Highly recommended for reconditioning older battery batteries that have been discharged and neglected. Each Battery MINDer ships with one each quick disconnect ring set and alligator clips. #BM12108E
Features
Charges and maintains your battery without overcharging it, guaranteed.
Features two stage charging program: Charge and Float-Maintenance with desulfation in both stages (full-time.)
Utilizes full-time battery monitoring to automatically test the battery several times a second, supplying only the current needed to maintain battery at full charge.
Utilizes safe variable high frequency pulse desulfation to dissolve both old and newly formed sulfate from battery's plates that prevent the batteries from holding a full charge. To read more about the effects of sulfation on batteries, see the Proprietary Desulfation section on our Knowledge section.
Maximizes battery life and capacity; reconditions weak batteries.
Provides short circuit, spark and polarity protection.
Reduces the need to add water to maintenance-type batteries during long, non-use storage.
Costs less than 10¢ per month for full time maintenance.
Shows if connections are correct via charge indicator and "blinks" when battery reaches full charge.
Allows battery to be stored safely at 0º to 120º F providing they were previously maintained using a BatteryMINDer®.
Charges/maintains up to 4 batteries at a time (6 Volt batteries in parallel.) Requires use of Y-Connectors (part# 210AY - Sold Separately).
Includes 11' DC cord with quick connector.
5 Year Warranty
Comments
* Flat Rate shipping is for the lower 48 states only.
Review Summary

0 Average Rating

Rated

0

/

5

Stars from

0

customer reviews.

Write Your Own Review

Do you own the 12106A8V? Please, tell us what you think about it. It helps us provide you with better products. Please note that it may take up to 72 hours for your review to appear.

Write a review


Technical Specifications
Length
3.25
Width
2.25
Height
1.75
Weight
1.75
Shipping Weight (lb.)
3
Maximum Charging Current
1.3 A
Absorption Voltage
9.2 V
AC Input Volts
120 V
AC Input Volts Freq.
50/60 Hz
AC Input Volts Range
105 to 120 V
Desulphation Pulse
3.26 MHz
Float Voltage
8.5 V
Output Banks
1
Regulatory Approval
UL/CSA
Model:
12106A8V
Manufacturer:
BatteryMINDer/VDC Electronics
Manufacturer Part #:
12106A8V
Made In:
Asia
Instruction Manual

Download User Manual
Order Line: 1-800-362-5397
M–F 6am–5pm PST

Tech Help: 541-474-4421
Fax: 541-471-6014
276 Tech Way, Suite A
Grants Pass, OR 97526