view large photo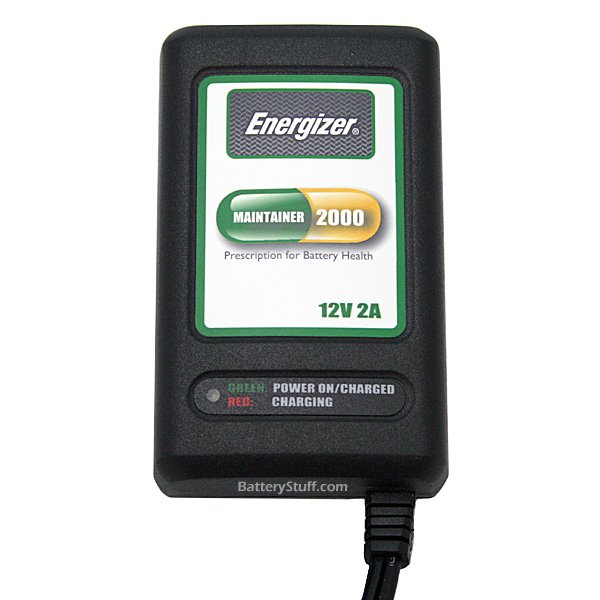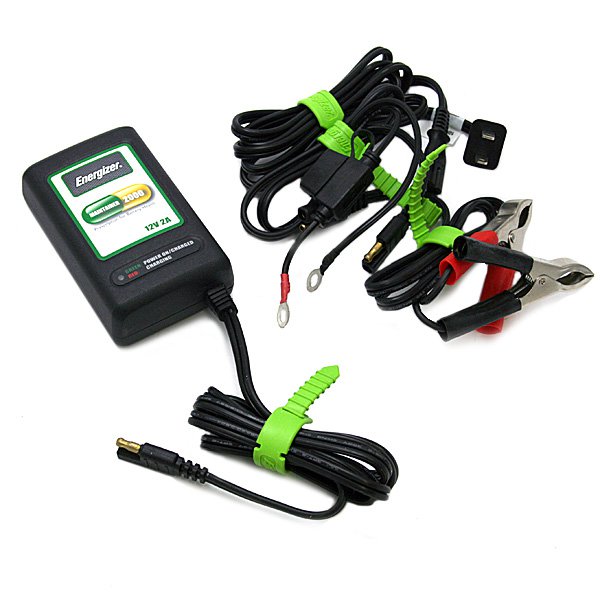 Energizer 12v 2 Amp Battery Smart Charger/Maintainer E-1202
E-1202
Was: $29.00
Sale Price:

$

25.00
- No Tax
This item qualities for
$7.50 Flat Rate Shipping*
Out of Stock
This Qualifies for FLAT RATE Shipping of $7.50 per order*
---
Product InformationStore Part Number: E-1202
Overview
The Energizer 12 Volt 2 Amp Charger & Maintainer is so easy to use. You simply plug in AC power from your wall outlet and connect to your battery. This 3 stage charger is safe and will not overcharge your batteries. You can plug in and walk away, worry free. The E-1202 is perfect for charging and maintaining sealed lead-acid batteries. This includes batteries for motorcycles, ATVs, personal watercrafts, automobiles, and boats.
The Energizer E-1202 is your prescription for battery health. The 2 color charge state indicator light is simple to read. Green indicates the charger is powered on. Red means the battery is being charged, and green again means the battery has reached full charge. It's that easy. This comes with a set of alligator clips and ring terminals, both of which use the common quick disconnect plug-and-play adapter seen on other small battery chargers, such as Battery Tender and Pulse Tech. Use the alligator clips for that quick charge on the go. But for a more permanent installation, leave the ringlets on your battery posts and plug in with the quick disconnect adapter whenever you need to.
It's great for long term battery storage and maintenance. Suggested for use on batteries with capacity of 5 - 20 Amp Hours (AH).
Features
High current fast charge stage
Absorption stage
Precision float charge stage
Multiple output cords
2 color charge-stage indicator
Short-circuit protection
Over-current protection
Over-voltage protection
Battery polarity reversal protection
Comments
* Flat Rate shipping is for the lower 48 states only.
---
Tech Specs
Length : 4 1/2
Width : 2 1/2
Height : 1 1/4
Weight : 1.4 lbs
Shipping Weight : 2 lbs
Input Voltage : 100-120 VAC
Model: E-1202
Manufacturer: Universal Power Group
Input Frequency : 50-60 Hz
Output Voltage (Bulk) : 14.6 V
Output Voltage (Float) : 13.6 V
Charge Current : 2 A
Operation Temp : +32° F/0° C to +104° F/60° C
Storage Temp : 14° F/-10° C to +140° F/80° C
Manufacturer Part #: E-1202
Made In: China
---
Customers who bought this product also bought:
---
Reviews and Ratings
---