Tenergy 12v-16.8v 1.4 Amp NiMH/NiCd Battery Pack Charger T-01004
Price:

$

23.00
No Tax

Not In Stock
BatteryStuff Part #:
T-01004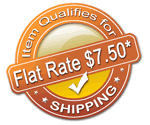 This Qualifies for FLAT RATE Shipping of $7.50 per order*
Tenergy 12v-16.8v 1.4 Amp NiMH/NiCd Battery Pack Charger T-01004
Product Description
Tenergy's Smart Universal Battery Pack Charger (T-01004) is designed for any NiMH and NiCd battery packs from 12 V - 16.8 V (10-14 cell pack). The current of charge can be manually selected and the unit includes a temperature sensor. The T-01004 uses Pulse and Negative Pulse technology to avoid battery from overheating and polarized during fast charging, which significantly increasing the battery pack's cycle life
Features
120 - 240 VAC input for worldwide voltage support
Designed for use with 12V-16.8V battery packs.
Automatically detect battery pack's voltage; Red LED light will be on during charging
Automatically cut-off by negative delta V when battery pack gets fully charged
Two current levels, ex: 0.9 A and 1.8 A are selectable by switch
One set of clip adapter with female tamiya connecter included
A standard tamiya male connecter is installed with the charger
An additional connecter adapter from male tamiya to female mini tamiya for charging RC air battery packs
Just plug in and charge until the green light indicates full charge
Comments
Please do not use this charger for low capacity battery packs (<900 mAh). Strongly suggestion to use Tenergy brand high drain rate battery pack. *Flat Rate shipping is for the lower 48 states only.
Review Summary

0 Average Rating

Rated

0

/

5

Stars from

0

customer reviews.

Write Your Own Review

Do you own the T-01004? Please, tell us what you think about it. It helps us provide you with better products. Please note that it may take up to 72 hours for your review to appear.

Write a review


Technical Specifications
Length
5 1/2
Width
2 1/2
Height
1 1/2
Weight
.6
Shipping Weight
1.1
AC Input
120-240 VAC
Model:
T-01004
Manufacturer:
Tenergy Corporation
Manufacturer Part #:
T-01004
Made In:
China
Order Line: 1-800-362-5397
M–F 6am–5pm PST

Tech Help: 541-474-4421
Fax: 541-471-6014
276 Tech Way, Suite A
Grants Pass, OR 97526