Tenergy NiMH NiCD Li-PO Li-Fe SLA TB6 Balancing Charger T-01234
Price:

$

62.00
No Tax

Not In Stock
BatteryStuff Part #:
T-01234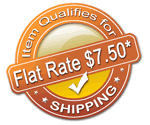 This Qualifies for FLAT RATE Shipping of $7.50 per order*
Optional T-01236 AC Switch Power Supply available. Sold separately.
Tenergy NiMH NiCD Li-PO Li-Fe SLA TB6 Balancing Charger T-01234
Product Description
Tenergy's Multi-Function Li-ion/Polymer Balance Charger & Discharger (T-01234) is a rapid charger with a high performance microprocessor and specialized operating software. This high-powered performance circuit is useful for monitoring the voltage of individual cells. This unit features the so-called AUTO function that sets the feeding current during the process of charging or discharging, and prevents overcharge. The T-01234 can monitor and balacne each cell of a battery individually.
All settings can be configured and saved by the user.
Features
Optimized Operating System
Internal Independent Lithium Battery Balancer
Adaptable to Various Types of Lithium Batteries
Fast and Storage Mode for Lithium Batteries
Automatic Charging Current Limit
Capacity Limit
Temperature Threshold
Processing Time Limit
Input Power Monitoring
Data Store/Load (up to 5 settings)
1 year Warranty
Comments
Compatible with the following battery types:
- NiCD
- NiMH
- Li-ion
- LiPo
- LiFe
- Pb *Flat Rate shipping is for the lower 48 states only.
Review Summary

0 Average Rating

Rated

0

/

5

Stars from

0

customer reviews.

Write Your Own Review

Do you own the T-01234? Please, tell us what you think about it. It helps us provide you with better products. Please note that it may take up to 72 hours for your review to appear.

Write a review


Technical Specifications
Length
5 1/4
Width
3 3/16
Height
15/16
Weight
.7
Shipping Weight
1.2
Operating Voltage Range
DC11.0-18 Volt, AC to DC Adapter (DC 11-18V/5A)
Circuit Power
Max. charge 50W, Max. discharge power 5W
Charge current range
.01-5.0 A
Discharge current rage
0.1-1.0 A
Current drain for balancing LiPo
300mAh/cell
NiCd/NiMH battery cell count
1-15 cells
Li-on/Polymer cell count
1-6 series
Pb battery voltage
2-20 V
Warranty
1 Year
Model:
T-01234
Manufacturer:
Tenergy Corporation
Manufacturer Part #:
T-01234
Made In:
China
Order Line: 1-800-362-5397
M–F 6am–5pm PST

Tech Help: 541-474-4421
Fax: 541-471-6014
276 Tech Way, Suite A
Grants Pass, OR 97526