view large photo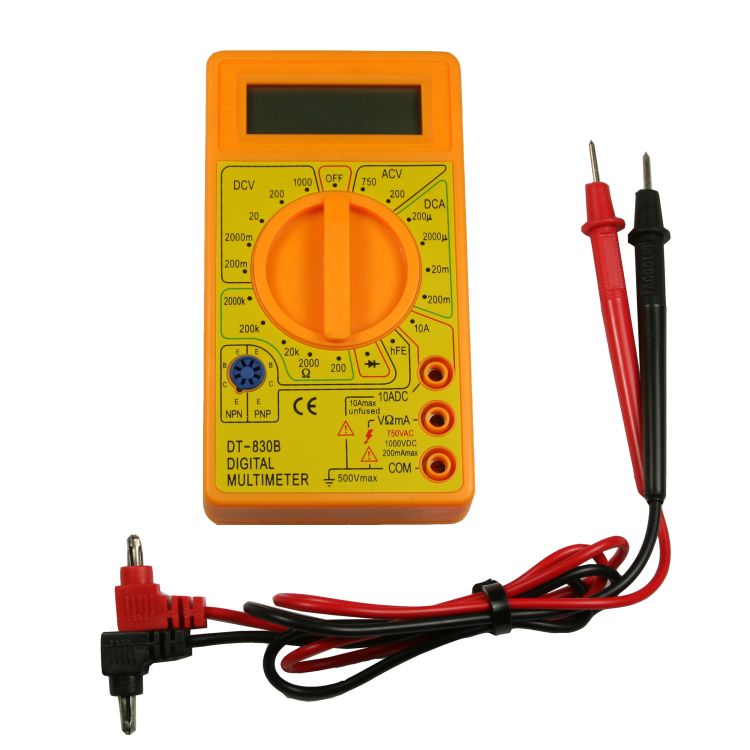 AC/DC Digital Volt Meter & Multimeter DT-830B
DT-830B
This item qualities for
$7.50 Flat Rate Shipping *
Quantity
---
OR Simple-Click Checkout
---
In Stock
This Qualifies for FLAT RATE Shipping of $7.50 per order*
This inexpensive voltmeter has been tested by Batterystuff, and is as accurate as we have found!
---
Product InformationStore Part Number: DT-830B
Overview
The DT-830B Digital Multimeter Measures AC and DC volts, current, resistance (ohms), diode continuity and transistor hfe. The DT-830B weighs less than a pound and can be used to check battery voltage, solar panel open circuit voltage, solar panel milliamp (amp) output, battery charger voltage output and settings, continuity in an electrical circuit, and many other uses.
Features
Measures AC and DC Volts
Measures Current - 10 Amps Max
Measures Ohms
Measures Transistor hFE
Comments
A digital tester is a consumer must have, as it will be a big help in solving any electrical problems. *Flat Rate shipping is for the lower 48 states only.
---
Tech Specs
Dimensions (LxWxH): 4.86 x 2.69 x 1.7 in
Weight: .5 lb
Model: DT-830B
Manufacturer: Misc. Accessories & Tools
Shipping Weight (lb.): 2.0
Warranty: 1 Month
Manufacturer Part #: DT-830B
---
Customers who bought this product also bought:
---
Reviews and Ratings
---