Battery Mat 12" x 24" BatMat1224
Price:

$

10.00
No Tax

Not In Stock
BatteryStuff Part #:
BatMat1224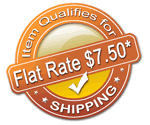 This Qualifies for FLAT RATE Shipping of $7.50 per order*
Buy it in bulk to cut your own custom sizes. Absorbes an neutralizes sulfuric acid.
Battery Mat 12" x 24" BatMat1224
Product Description
Battery Mat prevents metal corrosion caused by battery acid. It installs in minutes. Just place the battery mat in the bottom of the battery tray and install the battery.

The Battery Mat is made of super absorbent polypropylene needle punch felt; a rugged space age product. Its unique construction allows the battery mat to trap and contain acid while powerful neutralizing agents start to work immediately to counterbalance the hazardous effects of the acid. Picture is not actual size but does represents the material 12 × 24 inch mat is cut from.

Here are a few Frequently Asked Questions on Battery Mat:
Q. How will water effect the Battery Mat?
A. The Battery Mat may become wet and then dry out with no adverse effects.
Q. What is the typical life span in an automotive application?
A. Approximately 3 years.
Q. Can I paint Battery Mat?
A. Painting Battery Mat is not recommended. If you want to change the color of the exposed edges of the battery mat we recommend the use of a Marks-A-Lot permanent Marker.
Q. Can I cut Battery Mat to fit my battery size?
A. Yes, Battery Mat should be cut to provide a 1/8 inch skirt area reaching beyond the outer edge of the battery. A good pair of scissors or razor blade may be uses.
Comments
* Flat Rate shipping is for the lower 48 states only. Item shown in picture is typical.
Review Summary

5 Average Rating

Rated

5

/

5

Stars from

0

customer reviews.

Write Your Own Review

Do you own the BatMat1224? Please, tell us what you think about it. It helps us provide you with better products. Please note that it may take up to 72 hours for your review to appear.

Write a review