Quick Cable DC Inverter Installation Kit 1000 to 1500 Watts 9946
Price:

$

89.00
No Tax

BatteryStuff Part #:
9946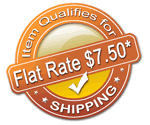 This Qualifies for FLAT RATE Shipping of $7.50 per order*
Quick Cable DC Inverter Installation Kit 1000 to 1500 Watts 9946
Product Description
The Inverter Installation Kit is designed to be safely used with DC to AC Power Inverters up to 1500 watts. The kit contains all the items required to assure proper performance and life span of your Power Inverter. Using proper fuse provided in Inverter Installation Kit will protect batteries and other electronics from damage from shorted wiring.
Features
3' 2 Ga. Red Cable
10' 2 Ga. Red Cable
10' 2 Ga. Black Cable
10' 8 Ga. Green Cable
Deluxe clearview fuse holder
200 Amp Safety Fuses
2 Ga. Wire Connectors - Std. 3/8" Hole
2 Ga. Wire Connectors - Std. 5/16" Hole
8 Ga. Wire Connectors - Std. 1/4" Hole
2 Ga. Grommets
Comments
* Flat Rate shipping is for the lower 48 states only.
This kit allows up to 10 foot reach from DC power source. Some tools required to make installation.
Review Summary

0 Average Rating

Rated

0

/

5

Stars from

0

customer reviews.

Write Your Own Review

Do you own the 9946? Please, tell us what you think about it. It helps us provide you with better products. Please note that it may take up to 72 hours for your review to appear.

Write a review