Samlex 12v 150 Watt Pure Sine Power Inverter PST-15S-12A
Price:

$

110.88
No Tax

BatteryStuff Part #:
PST-15S-12A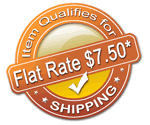 This Qualifies for FLAT RATE Shipping of $7.50 per order*
Samlex 12v 150 Watt Pure Sine Power Inverter PST-15S-12A
Product Description
The PST-15S-12A Converts 12VDC to 120 VAC
Samlex offers superior quality Pure Sine Wave AC-DC power inverters for many different applications. BatteryStuff.com offers PURE SINE WAVE (aka true sine wave) that provides high-end specialty users power portability for sensitive electronic equipment. The clean power delivered by a Pure Sine Wave is of the same quality and efficiency as the power provided by your utility company, which is not the case with the cheaper and more popular modified sine inverters.
The 12 volt PST series inverters can withstand dc voltages of up to 16.5 volts which means that they are compatible with highvoltage dc charging-such as solar charging and equalization charging. Because of the heavy duty chassis, the PST-15S-12A is able to cool itself via convection, which allows for less fan run time-leading to longer fan life and less no load draw.
We highly recommend the use of Pure Sine Wave Inverters to power Computers and related peripheral devices; i.e. printers, optical drives, laser copiers, and if in doubt check with the manufacturer of your equipment.
Other devices that benefit when Pure Sine Wave power is used are variable speed control motors using solid state circuitry, Audio Amplifiers, Digital Clocks and Radios, Medical Equipment, Microwaves, etc.
Features
High efficiency
Low battery voltage alarm
LED indicators for power and protections
Protections: input low voltage, input over voltage, over temperature, over load, short circuit
Low idle power draw
Comes with cigar lighter plug
Comments
PLEASE NOTE: Many electrical devices require a good deal more Watts to start or energize than is required run once started. For instance an electric motor may require only 120 watts to run but may need 650 watts to start. Please check with the manufacturer of your equipment to obtain minimum watts for starting operation of the equipment or device.
Review Summary

0 Average Rating

Rated

0

/

5

Stars from

0

customer reviews.

Write Your Own Review

Do you own the PST-15S-12A? Please, tell us what you think about it. It helps us provide you with better products. Please note that it may take up to 72 hours for your review to appear.

Write a review
Technical Specifications
Length
8.5
Width
5.8
Height
2.6
Weight
2.9
Shipping Weight (lb.)
5
Typical Efficiency
85%
Power, Continuous
150W
Power, Surge (For <1 Sec)
300W
Output Voltage
120 V AC ± 3%
Output Frequency
60 Hz
Output Voltage WaveForm
Pure Sine Wave
Total Harmonic Distortion
< 3%
Input Voltage
10.5 to 16.5 VDC
Input Current at No Load
< 600 mA
Low Input Voltage Warning Alarm
10.5 V
Low Input Voltage Shut-Down
10 V
High Input Voltage Shut-Down
16.5 V
Operating Ambient Temperature
0 to 40ºC ± 5ºC
Peak Efficiency
85%
Cooling
Temperature Controlled Fan
Input Connection
Cigarette Lighter Plug
Output Connection
1 Standard North American Outlet (NEMA 5-15R)
DC Input Side Fuse
20 A
Warranty
2 Year
Manufacturer:
Samlex
Manufacturer Part #:
PST-15S-12A
Instruction Manual

Download Manual

Download Specification
Order Line: 1-800-362-5397
M–F 6am–5pm PST

Tech Help: 541-474-4421
Fax: 541-471-6014
276 Tech Way, Suite A
Grants Pass, OR 97526