Samlex 12v 1000 Watt Pure Sine Wave Inverter SSW-1000-12A
Price:

$

281.18
No Tax

BatteryStuff Part #:
SSW-1000-12A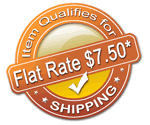 This Qualifies for FLAT RATE Shipping of $7.50 per order*
Samlex 12v 1000 Watt Pure Sine Wave Inverter SSW-1000-12A
Product Description
The SSW-1000-12A Converts 12VDC to 115 VAC
The all new SSW series pure sine wave inverters from Samlex offer a new option for powering your sensitive applications. The SSW-1000-12A is a heavy duty inverter meant to power high draw systems. With a surge rating of 2000 watts, the SSW-1000-12A can be used for mid sized audio systems, boats, rvs, emergency backup, and any midsize electronics. Other applications would include service vehicles, telecomunication, construction sites, computers, printers and more.
We highly recommend the use of Pure Sine Wave Inverters to power Computers and related peripheral devices; i.e. printer's, optical drives, laser copiers, and if in doubt check with the manufacturer of your equipment.
Other devices that benefit when Pure Sine Wave power is used are variable speed control motors using solid state circuitry, Audio Amplifiers, Digital Clocks and Radios, Medical Equipment, Microwaves, etc.
Features
Comes with Remote Control and LCD display
High Performance, High Surge Power
True Sine Wave Output for Sensitive Applications
"Soft Start" and "Low Interference" Technology
Circuit Protections: Thermal, Battery, Overload, Short Circuit, and Ground Fault
Cool Touch Surface
Comments
PLEASE NOTE: Many electrical devices require a good deal more Watts to start or energize than is required to run once started. For instance an electric motor may require only 900 watts to run but need may 2300 watts to start. Please check with the manufacturer of your equipment to obtain minimum watts for starting operation of the equipment or device. *Flat Rate shipping is for the lower 48 states only.
Have additional questions?
Your costly electronic equipment deserves the pure, reliable power that only a true sine wave inverter can give you. If you have any questions about selecting the right power inverter for your devices, the staff at BatteryStuff.com is ready to help. Whether you have additional questions about modified wave inverters, or simply want some friendly advice about the best sine wave inverter for your needs, we're here for you. All you need to do is check the power requirements of your equipment, and call our Tech line at 541-474-4421 during business hours. Just mention that you're looking for a pure sine wave inverter and we'll help you find just what you need.
Additional Remotes Are Available: For Installations Where Multiple Remote Control Panel Locations Are Required

SSW-R1-12B
This simple switch allow the user to remotely switch on or off the SSW-1000-12A inverter made by Samlex. Allows for simple hookup with one phone jack type connector, there is no cutting and splicing necessary!
Most Helpful Customer Reviews

SSW-1000-12a Samlex

By

Jazz

on Feb 11, 2012,

Ownership:

Just Bought,

Knowledge Level:

AC/DC is more than a band

(92 of 170 customers found this review helpful)

Pros: The Samlex inverter has preformed as expected. The cost per watt ratio is good. The only draw back is the fan noise but at least I know the electrical components aren't being fried. For the money it is good sine wave inverter.

Cons: The fan noise under heavier load.

Other Thoughts: A thank you to BatteryStuff.com for acting on replacing the first inverter quickly. The first one had a faulty GFI. They contacted the manufacturer immediately and I received a replacement inverter in short order. I appreciate the great customer service I received from BatteryStuff.com

Review Summary

4.00 Average Rating

Rated

4.00

/

5

Stars from

1

customer reviews.

Write Your Own Review

Do you own the SSW-1000-12A? Please, tell us what you think about it. It helps us provide you with better products. Please note that it may take up to 72 hours for your review to appear.

Write a review


Technical Specifications
Length
10.43
Width
8.74
Height
3.46
Weight
5.7 lb.
Shipping Weight
9.0 lb.
DC Input Voltage Range
10.5 - 15.3 VDC (± 0.3 VDC)
DC Input Current at Rated Load
100A
DC Input Current at No Load
< 0.9A
AC Output Voltage
115 VAC (± 5 VAC)
AC Output Frequency
60 Hz (± 1 Hz)
AC Output Wave Form
Pure Sine Wave
Continuous Active Output Power
1000W
Maximum Active Surge Power (Less Than 1 Sec)
2000W
Peak Efficiency
89%
Remote Control Port (8 Position Modular Connector)
Yes
Low Input Voltage Warning Alarm
11.0 VDC ± 0.3 VDC
Low Input Voltage Input Shutdown
10.5 VDC ± 0.3 VDC
High Input Voltage Shutdown
15.3 VDC ± 0.3 VDC
Protection - Groud Fault/Overload/Short Circuit Shutdown
Yes
Over Temperature Shutdown
Yes
Cooling
2-Speed Fan
Input Connection
Nut and Bolt (M9)
Output Connection
Dual NEMA5-20R North American Receptacles with GFCI
Compliance
Listed to UL Standard UL-458
Operating Temperature
0˚C to 40˚C / 32˚F to 104˚F
Storage Temperature
-30˚C to 70˚C / -26˚F to 158˚F
Warranty
2 Year
Manufacturer:
Samlex
Manufacturer Part #:
SSW-1000-12A
Instruction Manual

Download Manual

Download Specification
Order Line: 1-800-362-5397
M–F 6am–5pm PST

Tech Help: 541-474-4421
Fax: 541-471-6014
276 Tech Way, Suite A
Grants Pass, OR 97526