view large photo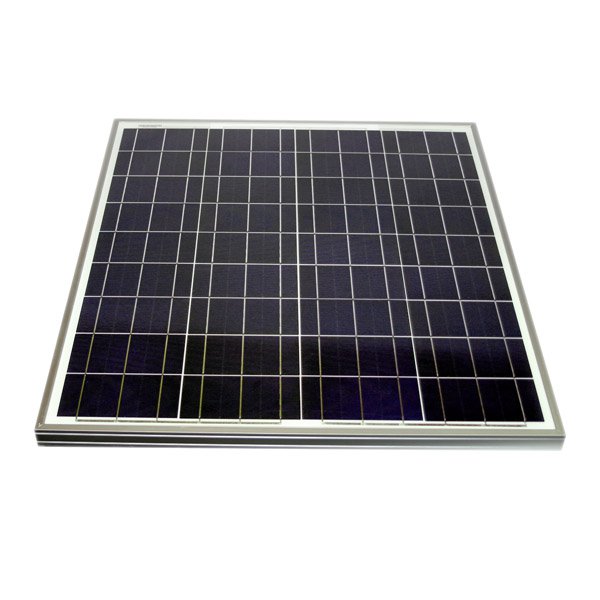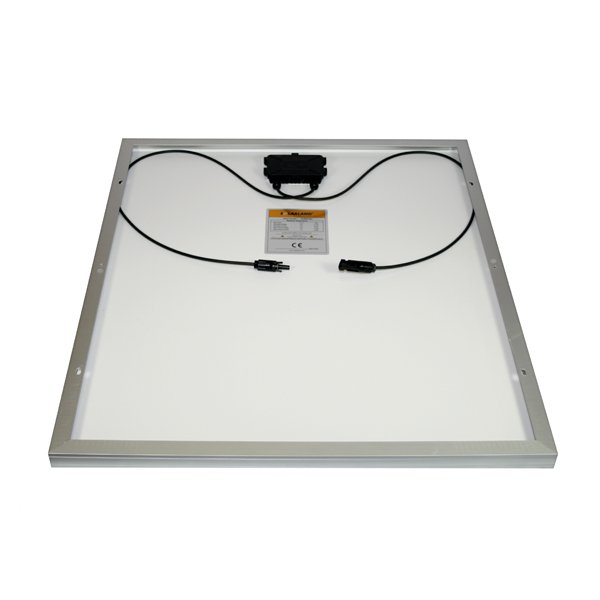 Solarland 12v 70 Watt Framed Solar Panel - SLP070-12U-W
SLP070-12U-W
Was: $224.95
Sale Price:

$

199.45
- No Tax
In Stock
Industrial grade panel at an excellent consumer grade price!
---
Product InformationStore Part Number: SLP070-12U-W
Overview
70 Watt Framed Solar Battery Charger
This module use uses high quality Multi-crystalline solar cells. They make excellent trickle chargers and small motor power supplies. The 20 watt module is great for powering fans and fountain pumps, charging 12 volt batteries for telemetry, or for battery maintenance. This unit ships with 3 feet of cord, a sealed junction box, and a 10 year output warranty. A solar controller is recommended to improve charging efficiency and protect batteries.
Shipping surcharge will be applied for Air Delivery as physical size of package increases Air Delivery price.
Features
4.07 Amps output
16 to 24 amps a day output (dependent on light conditions)
Warranty power output 10 years
3ft of output cable to MC-4 connector (MC-4 connectors required and available below to connect to panel)
Nominal 12V DC for standard output.
Heavy-duty anodized frames.
High transparent low-iron,tempered glass.
Rugged design to withstand high wind pressure, hail and snow load.
5-year limited warranty of materials and workmanship, 10-year limited warranty of 90% power output, 25-year limited warranty of 80% power output
Comments
Accessory Required to Connect to Panel

MC4-2
Samlex's MC4-2 Kit contains 1 male and 1 female MC4 solar panel connector. This type of connector system is easy to install and uses "snap-in" safety locking tabs to lock two mating connectors, thereby avoiding unintentional disconnection. Also when locked, the mating contacts are sealed against ingress of dust and water.
RECOMMENDED CONTROLLERS

SS6-12V
The SunSaver 6 is a high quality, extremely reliable but economically priced charge controller from Morningstar. Offering features such as their advanced PWM pulse charging algorithm, selectable battery type and temperature compensation.

SCC-1208L
The Samlex 12 Volt 8 Amp Solar Controller is waterproof. It's based on an advanced design using a micro controller for digital accuracy and fully automatic operation.
RECOMMENDED MOUNTING BRACKETS

SLB-0102
This Flat Mount Z Bracket Kit works for mounting panels on flat surfaces. Use with our Panels 30 watts and up. Kit includes hardware and 4 brackets.

SLB-0103
This Universal Angle Adjustable Mounting Bracket Kit works for mounting panels on flat surfaces. Use with our Panels 45 watts and up. Kit includes brackets and hardware.

SLB-0114
The Universal Flat Mount Bracket Kit has been specifically designed for use with our 68 Watt Solar Panels or larger. This mount is a fixed, flat, or pole mount design giving a tilt angle range of 0° - 90°.
*Flat Rate Shipping does not apply to this oversize item.
---
Tech Specs
Dimensions (LxWxH): 30.47 x 26.57 x 1.18 in
Weight: 13.22 lb
Shipping Weight: 17 lb
Maximum power (Pmax): 70 W
Voltage at Pmax (Vmp): 17.2 V
Current at Pmax (Imp): 4.07 A
Open-circuit voltage (Voc): 21.6 V
Short-circuit current (Isc): 4.35 A
Model: SLP070-12U-W
Manufacturer: Solarland
Temperature coefficient of Voc: -(80±10) mV/°C
Temperature coefficient of Isc: (0.065±0.015)%/ °C
Temperature coefficient of power: -(0.5±0.05)%/ °C
NOCT (Air 20°C; Sun 0.8kW/m² wind 1m/s): 47±2°C
Operating temperature: -40°C to 85°C
Maximum system voltage: 1000 V DC
Power tolerance: ± 5%
Manufacturer Part #: SLP070-12U-W
Made In: Asia
---
Customers who bought this product also bought:
---
Reviews and Ratings
---
Manuals & Tutorials