view large photo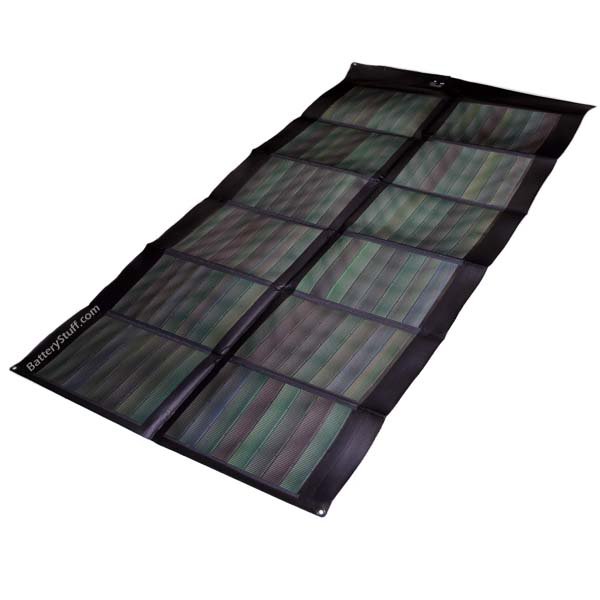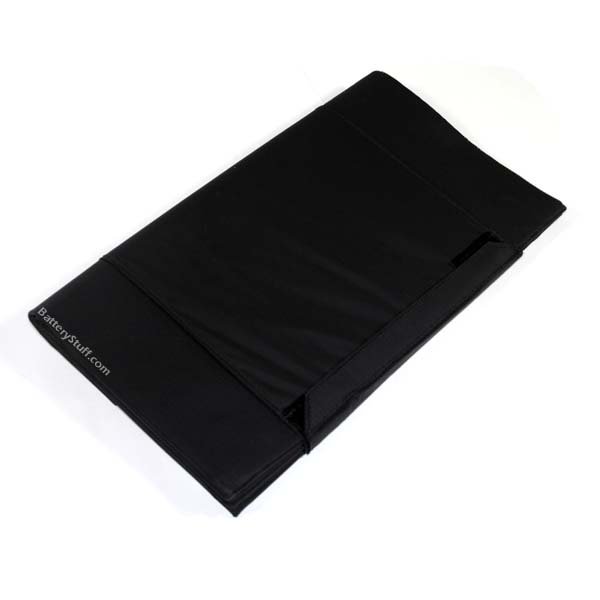 Global Solar 12v 62 Watt Military Grade Portable Charger Sunlinq-7
Sunlinq-7
Was: $819.00
Sale Price:

$

649.00
- No Tax
This item qualities for
$7.50 Flat Rate Shipping*
In Stock
This Qualifies for FLAT RATE Shipping of $7.50 per order*
Black and Desert Camouflage currently available, Forest Camouflage available upon request, but will take additional time.
If you intend to power a laptop computer with this panel, you will need additonal items. You will need: An auto/car adaptor to up convert the 12 volt output of this panel to the voltage that your laptop requires(check with your computer manufacturer), a solar controller with the correct hookups(GS12v7A), a small battery to act as a buffer to 'clean up' the power from the panel, and a female lighter adapter that connects to the battery. If you are unsure, call before you buy! ACCESSORIES NOT INCLUDED
---
Product InformationStore Part Number: Sunlinq-7
Overview
The P3 is a military grade solar-energized power generator for mobile power needs. Incorporating solid state, thin-film, PowerFLEX™ solar technology, the P3 provides an excellent choice for situations that require lightweight, durable, silent power. Re-charge batteries, power communication equipment and mobile electronics, plus reduce the battery logistic challenge with the P3. It provides silent energy independence to the user. This portable flexible solar panel may not operate or charge certain electronic devices such as a laptop computer. Some portable electronic equipment batteries require higher voltage that the solar panel can supply. Please contact us with your specifications if you are uncertain about the application.
The P3 Portable Power Pack is used worldwide to provide users an alternate power generator for charging lead-acid, Nickel Cadmium (NiCd), Nickel-Metal-Hydride (NiMH) and Lithium Ion rechargeable batteries. The P3 will enable extended missions, provide energy security, restore power silently and can provide power for remote, portable surveillance equipment.
A primary battery can only be used once. Secondary batteries can be recharged several hundred times. Recent studies show that a P3 solar charger pays for itself in fewer than fifteen recharges. That is equivalent to several hundred FREE BATTERIES!
Twice the power to weight ratio of alternative solar generators, the P3 is ideal for situations requiring power renewal to batteries and mobile electronics.
The P3 Portable Power Pack folds for easy transport and storage.
Features
Attention Buyers: This foldable solar panel is rated to power 12 volt electronic devices; the electronic devices you wish to use may require adapters and other hardware to function properly. Please contact one of our tech people with your equipment specifications if you are uncertain about the application.
Portable and lightweight (Folded Size 11 x 9 x 1.3)
Available in 30 and 62 watts
Tough rip-stop nylon backing
12 and 24 VDC rated products
Weatherproof and UV resistant
Anti-glint coating eliminates reflection
Velcro pouch for cables and controllers
Built-in reverse current diode protection
SAE 2-prong water-resistant trailer plug
Continues to power under cloudy/overcast skies
Colors available in Black or Woodland Camo
Powers field electronics; sensors, phones, radios, GPS, portable lighting, etc
Comments
Global Solar®'s Portable Power Packs are lightweight, foldable power sources for rugged, self-sustaining power. These military grade units use non-silicon based, CIGS (Copper Indium Galium di-Selinide) Technology and are made to take a beating. They'll even take a bullet hole and continue to function. CIGS Technology is also used in the space program.
*Flat Rate shipping is for the lower 48 states only.

Recommend Controller & Accessories

GS12V7A
A 12V 7 Amp Charge Controller protects your lead acid batteries from overcharge.

22700-1RC
Global Solar Quick Disconnect Ring Connector for Global Solar Foldable Panels..

22700-1RC
Global Solar 8 foot Quick Disconnect Extension Cable for Global Solar Foldable Panels, or Charge Controller.

ycable28003
SAE y-cable, part #: 28003, has a 1 foot in trunk and two 3 foot legs for connecting another solar panel and device/battery.
---
Tech Specs
Dimensions (LxWxH): 55 x 32 x .1 in
Weight: 3.7 lb
Shipping Weight: 5 lb
Rated Power: 62 W
Manufacturer: Global Solar Energy
Operating Voltage: 12 V
Operating Current: 2.8 A
Open Circuit Voltage: 30 V
Short Circuit Current: 3.7 A
Series Fuse Rating: 7.5 A
Manufacturer Part #: P362watt
---
Customers who bought this product also bought:
---
Reviews and Ratings
---
Manuals & Tutorials