Global Solar 12v 25 Watt Sunlinq Power Flex Portable Charger - SUNLINQ 5
Price:

$

308.00
No Tax

Not In Stock
BatteryStuff Part #:
SUNLINQ 5
Replaces:
PF25W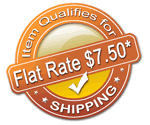 This Qualifies for FLAT RATE Shipping of $7.50 per order*
If you intend to power a laptop computer with this panel, you will need additonal items. You will need: An auto/car adaptor to up convert the 12 volt output of this panel to the voltage that your laptop requires(check with your computer manufacturer), a solar controller with the correct hookups(GS12v7A), a Y adaptor cable to go from the controller to the female ciagarette lighter adaptor, and a small battery to act as a buffer to 'clean up' the power from the panel. If you are unsure, call before you buy! ACCESSORIES NOT INCLUDED
Global Solar 12v 25 Watt Sunlinq Power Flex Portable Charger - SUNLINQ 5
Product Description
Durable, Lightweight flexible and foldable solar panels designed to maintain and charge your 12 volt battery and power most of your portable electronics. Ideal for all types of marine, RV and outdoor applications. PowerFlex™ is available in 6.5, 12, and 25 watt versions.
Resilient, made of extremely flexible and durable CIGS solar cells: a material proven to be very stable and long-lived, even when subjected to the rigors of extreme radiation in space.
The portable flexible solar panel may not operate or charge certain electronic devices such as a laptop computer. Some portable electronic equipment batteries require higher voltage that the solar panel can supply. Please contact us with your specifications if you are uncertain about the application.
Features
Attention Buyers: This foldable solar panel is rated to power 12 volt electronic devices; the electronic devices you wish to use may require adapters and other hardware to function properly. Please contact one of our tech people with your equipment specifications if you are uncertain about the application.
Measures 41.2 by 31.5 inches
Neatly folds to 11 x 8.2 x .7 pack
Weatherproof/UV Resistant
Comments
The SUNLINQ 25 watt Power Flex is ideal for recharging items such as Cell Phones, Emergency Radios, GPS, Digital Cameras, PDA's, Small 12 Volt Batteries, CD/DVD players, etc. Laptop computers generally require voltage other than 12 VDC to operate; check your computer owner's manual before ordering. An adapter that converts 12 VDC your required computer battery charge voltage maybe available from your computer manufacturer. *Flat Rate shipping is for the lower 48 states only.
Recommend Controller & Accessories

GS12V7A
A 12V 7 Amp Charge Controller protects your lead acid batteries from overcharge.

22700-1RC
Global Solar Quick Disconnect Ring Connector for Global Solar Foldable Panels..

22700-1RC
Global Solar 8 foot Quick Disconnect Extension Cable for Global Solar Foldable Panels, or Charge Controller.

ycable28003
SAE y-cable, part #: 28003, has a 1 foot in trunk and two 3 foot legs for connecting another solar panel and device/battery.

Review Summary

0 Average Rating

Rated

0

/

5

Stars from

0

customer reviews.

Write Your Own Review

Do you own the SUNLINQ 5? Please, tell us what you think about it. It helps us provide you with better products. Please note that it may take up to 72 hours for your review to appear.

Write a review


Technical Specifications
Weight
1.7
Shipping Weight (lb.)
4
Rated Power
25W
Operating Voltage
12V Nominal
Operating Current
1.5A
Model:
SUNLINQ 5
Manufacturer:
Global Solar Energy
Manufacturer Part #:
SUNLINQ 5
Made In:
Asia
Order Line: 1-800-362-5397
M–F 6am–5pm PST

Tech Help: 541-474-4421
Fax: 541-471-6014
276 Tech Way, Suite A
Grants Pass, OR 97526