Battery MINDer 12v 1 Amp Solar Controller up to 15 Watts SCC15
Price:

$

56.00
No Tax

BatteryStuff Part #:
SCC15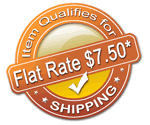 This Qualifies for FLAT RATE Shipping of $7.50 per order* Unit is a 15 Watt Controller, and may arrive with Part Number SCC005 or SCC015.
Use this controller with any of the panels we sell, from 5 to 15 watts!
Battery MINDer 12v 1 Amp Solar Controller up to 15 Watts SCC15
Product Description
Battery Minder solar controller. This controller is the same unit used on the BatteryMinder 5 and 15 watt kits, and can be used on any solar panel from 5 watts up to 15 watts. This controller will prevent your battery from getting overcharged, as well as remove and prevent harmful sulfation via the BatteryMinder Patented High Frequency Pulse.
Features
Desulfates older batteries
Prevents sulfation buildup on new batteries.
Prevents overcharge of your battery system
Comments
*Flat Rate shipping is for the lower 48 states only.
Most Helpful Customer Reviews

First Rate Solar Battdry Chargert Sales Support

By

Peter

on Oct 03, 2013,

Ownership:

Just Bought,

Knowledge Level:

AC/DC is more than a band

(82 of 160 customers found this review helpful)

Pros: I knew in general terms what I wanted having purchased a mains-powered version of this product years ago. But the devil's in the detail, and I received first rate help defining the exact version of the product I need for my specific application. The response to my inquiry submitted via the website was prompt and answered the questions. Ten out of ten -- thank you!

Cons: None. Zip. Zero

Older batteries beware

By

Jon

on Mar 09, 2015,

Ownership:

Use regularly,

Knowledge Level:

AC/DC is more than a band

(1 of 1 customers found this review helpful)

Pros: Put this and a 15W panel on my camper and have been VERY happy with it. I always had problems with camper battery dying over a long weekend of dry camping. Even with replacing all the lights with LEDs, after a couple days the battery was so dead the generator wouldn't even start. Since installing this system I haven't had a problem. Probably could use a 30-60W panel but if it works... don't fix it.

Cons: Originally purchased to run a web camera off grid but undersized the panel (needed a 30+ W). My solar guru friend recommended the desulfator and swears by it. I think that it shorted out my OLD battery after several months of running on it shorted out a few of the cells. I would guess that it broke loose all the sulfites built up on the plates faster than it could dissolve them? Well it is my theory and I am sticking to it.

Other Thoughts: My new battery has been running great on this system... my friend tells me he has a few 10 year old batteries that are still working great since they have been on the desulfator circuitry.

saul good man

By

Glenn

on Feb 27, 2015,

Ownership:

Just Bought,

Knowledge Level:

Electricity doesn't scare me.. usually

(1 of 1 customers found this review helpful)

Pros: seems to be doing the job. I have an 2 prong SAE type connecter and voltmeter and the voltage to the battery pulses as advertised when fully charged. No problems to report so far..

Cons: A little pricey.. the connection block seems a little cheap but has worked fine.

Review Summary

5.00 Average Rating

Rated

5.00

/

5

Stars from

3

customer reviews.

Write Your Own Review

Do you own the SCC15? Please, tell us what you think about it. It helps us provide you with better products. Please note that it may take up to 72 hours for your review to appear.

Write a review
Technical Specifications
Length
3.75
Width
2.5
Height
1
Weight
.75
Shipping Weight (lb.)
1
Absorption Voltage
14.3
Float Voltage
13.2
Warranty
5yr
Manufacturer:
BatteryMINDer/VDC Electronics
Manufacturer Part #:
SCC15
Made In:
China
Instruction Manual

Download Manual
Order Line: 1-800-362-5397
M–F 6am–5pm PST

Tech Help: 541-474-4421
Fax: 541-471-6014
276 Tech Way, Suite A
Grants Pass, OR 97526