Battery MINDer 180 Watt Solar Charge Controller/Desulfator BMSCC180
Price:

$

108.00
No Tax

BatteryStuff Part #:
BMSCC180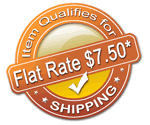 This Qualifies for FLAT RATE Shipping of $7.50 per order*
Use this controller with any of the panels we sell, from 5 to 180 watts!
Battery MINDer 180 Watt Solar Charge Controller/Desulfator BMSCC180
Product Description
Battery Minder solar controller. This controller can be used on any solar panel from 5 watts up to 180 watts. This controller will prevent your battery from getting overcharged, as well as remove and prevent harmful sulfation via the Battery MINDer Patented High Frequency Pulse. The unique algorithm programmed processor optimizes panel's charge rate, keeping them at full charge indefinitely without every overcharging.
Features
Desulfates older batteries
Prevents sulfation buildup on new batteries
Prevents overcharge of your battery system
Manufactured to ISO 9002 World Quality Standards
Comments
* Flat Rate shipping is for the lower 48 states only.
Most Helpful Customer Reviews

Pretty Flexible and Automatic

By

Zymz

on Sep 18, 2015,

Ownership:

Use regularly,

Knowledge Level:

AC/DC is more than a band

Pros: Sturdy and Responsive, I have this little controller hooked up to two solar panels that feed it roughly up to 150 watts, then manages two lead batteries I'm using at the moment. One of the two batteries was a dead car battery over 10 years old, using this little sucker I've nursed it back to around 80+% capacity. The charger only takes what it needs to use for the most part sharing my PV DC electricity with other devices I have hooked into my panels especially if it is only managing a maintenance charge.

Cons: Haven't had any yet, although you might want to consider changing out the fuse since if you actually have a configuration to meet the 180 Watt max the charger can utilize - it'll pop the fuse it ships with, but it's just a standard car blade fuse, I've put a 20 amp in mine, which is a little over spec but it'll still save it from overloads and accidental shorts etc. I would like to know if this controller could be safely hooked up to 200 watts of PV safely or if that is simply a risk, since the easiest to get panels are 100 watt and an 80 watt costs almost the same... thus I got a 50 watt instead. But after hooking a shunt and DC meter to the connection, the controller 'seems' to only take what it can use, so I don't know if it'd take dmg if it were attempting to fully charge something like a dead battery while hooked up to 200+ watt panels, I just don't dare test it, the controller is a smidge pricey to gamble with.

Other Thoughts: Pretty great for applications where you need to be able to charge AND maintain batteries out and about up to 180 Watts. Great for passive resuscitation battery projects since night time will allow the de-sulphated material time to re-absorb back into the battery's electrolyte over night, then come day-break it can fully recharge the newly recovered capacitance and then begin a new maintenance cycle.

Review Summary

5.00 Average Rating

Rated

5.00

/

5

Stars from

1

customer reviews.

Write Your Own Review

Do you own the BMSCC180? Please, tell us what you think about it. It helps us provide you with better products. Please note that it may take up to 72 hours for your review to appear.

Write a review


Technical Specifications
Length
3.5
Width
2.5
Height
2.25
Weight
1.4
Shipping Weight (lb.)
2
Absorption Voltage
14.3
Float Voltage
13.2
Warranty
5yr
Model:
SCC180
Manufacturer:
BatteryMINDer/VDC Electronics
Manufacturer Part #:
BMSCC180
Made In:
China
Instruction Manual

Download Instruction Manual
Order Line: 1-800-362-5397
M–F 6am–5pm PST

Tech Help: 541-474-4421
Fax: 541-471-6014
276 Tech Way, Suite A
Grants Pass, OR 97526