view large photo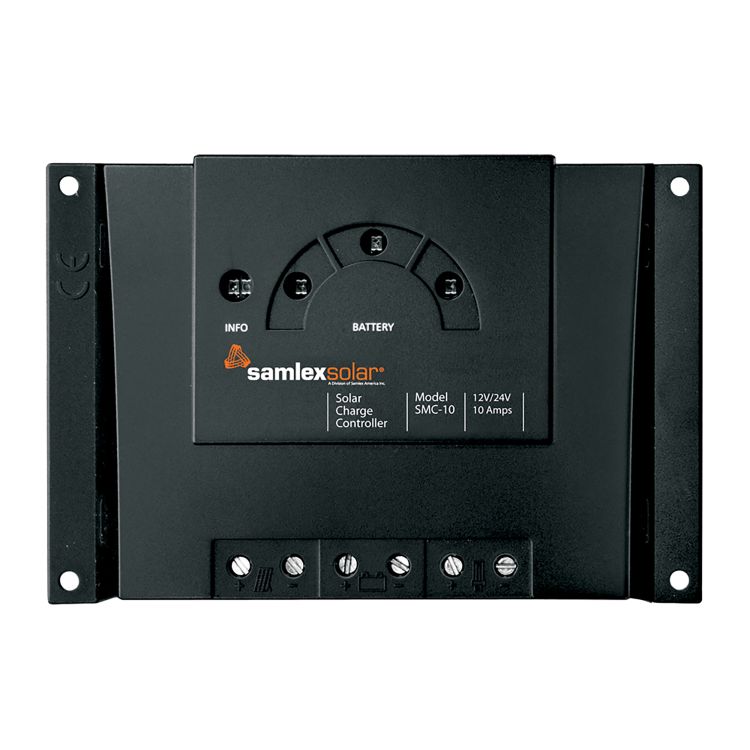 Samlex 12v/24v 10 Amp Solar Charge Controller SMC-10
SMC-10
Was: $66.50
Sale Price:

$

57.00
- No Tax
This item qualities for
$7.50 Flat Rate Shipping *
Quantity
---
OR Simple-Click Checkout
---
In Stock
This Qualifies for FLAT RATE Shipping of $7.50 per order*
---
Product InformationStore Part Number: SMC-10
Overview
The Samlex SMC-10's circuit board is completely electronically protected, and with the LED user interface it is easy to check the battery state of charge at any time. Large terminals guarantee a simple connection to solar panels, battery and load. The SMC-10 works on PWM as a low loss series controller. The Samlex SMC-10 automatically detects incoming voltage from a 12 V or 24 V panel and charges the corresponding battery pack at the same system voltage (12 V to 12 V, or 24 V to 24 V).
Features
Series Type with PWM control
Automatic battery voltage detection: 12 V / 24 V
10 A charging current
10 A load terminals for current compensated low voltage disconnect and auto reconnect
Multistage, temperature compensated charging
Colored LEDs for operational status, State of Charge and faults
Electronic protections
Comments
*Flat rate only within the lower 48 states.
---
Tech Specs
Dimensions (LxWxH): 7.36 x 3.78 x 1.77 in
Weight: 0.77 lb
Shipping Weight: 2 lb
System Type: Series Type with PWM control
Battery Type: Factory preset for Lead Acid - Gel Type (No Equalization)
Nominal Battery System: 12 V or 24 V Auto Detection
12 Volt System: 9 V to 17 V is detected as 12 V Battery
24 Volt System: 17.1 V to 34 V is detected as 24 V Battery
System Maximum Current: 10 A
Self Consumption: < 4 mA
Minimum Battery Voltage To Start Operation: 9 V
Grounding: Common Positive Grounding or Negative Grounding on Negative Battery Terminal
Solar Input Maximum Open Circuit Voltage: < 47 V
Model: SMC-10
Manufacturer: Samlex
Solar Input Maximum Short Circuit Current: 10 A
Boost Charge Voltage: 14.4 VDC / 28.8 VDC
End Of Charge Voltage: 13.9 VDC / 27.8 VDC
Equalization Voltage: Equalization is Factory preset in OFF condition (Default for Gel Battery)
12 Volt Low Voltage Disconnect Current Compensated: 11.6 V at Load Current = 0 A to 11.28 V at Load current = 10 A
24 Volt Low Voltage Disconnect Current Compensated: 23.2 V at Load Current = 0 A to 22.56 V at Load current = 10 A
12 Volt Low Voltage Reconnect Current Compensated: 12.4 V at Load Current = 0 A to 12.72 V at Load current = 10 A
24 Volt Low Voltage Reconnect Current Compensated: 24.8 V at Load Current = 0 A to 25.44 V at Load current = 10 A
Load Current Compensation: LVD: − 32 mV/A; LVR: +32 mV/A
Night Light Function: Factory preset in OFF condition
Display Type: 4 Multicolor LEDs
Operating Parameters Displayed: Normal Operation, State of Charge, Load Status and Faults
Warranty: 2 Year
Manufacturer Part #: SMC-10
Made In: Bulgaria
---
Customers who bought this product also bought:
---
Reviews and Ratings
---
Manuals & Tutorials