SLB-0102 Universal Flat Mount Z Bracket Kit for Large Solar Panels
Price:

$

20.00
No Tax

BatteryStuff Part #:
SLB-0102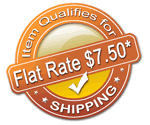 This Qualifies for FLAT RATE Shipping of $7.50 per order*
Mounting Bracket DOES NOT include Solar Panel.
SLB-0102 Universal Flat Mount Z Bracket Kit for Large Solar Panels
Product Description
This Flat Mount Z Bracket Kit works for mounting panels on flat surfaces. Use with our Panels 30 watts and up. Kit includes hardware and 4 brackets.
Installation is simple. Turn panel over to expose holes in frame. Using the hardware included, secure a bracket to each corner with nuts and bolts. Z shape bracket should face outward, not inward. Drill holes on a flat surface (such as the roof of a home or vehicle) and use extra hardware to secure the brackets to the surface.
Using the Z Bracket Kit will ensure the solar panel is safe and securely in place. The solar kit also provides space underneath the panel for airflow to prevent overheating (which can cause the panel to become less efficient).
Features
Includes: 4 brackets, nuts, bolts, washers
Weatherproof
Durable design
Extra hardware included
Recommended for use on Solar Panels 22 Watts and up
Comments
*Flat Rate shipping is for the lower 48 states only.
Recommended Solar Panels to use with this Bracket Kit
22 Watt Solar Panel
32 Watt Solar Panel
45 Watt Solar Panel
68 Watt Solar Panel
88 Watt Solar Panel
112 Watt Solar Panel
127 Watt Solar Panel
Review Summary

0 Average Rating

Rated

0

/

5

Stars from

0

customer reviews.

Write Your Own Review

Do you own the SLB-0102? Please, tell us what you think about it. It helps us provide you with better products. Please note that it may take up to 72 hours for your review to appear.

Write a review


Technical Specifications
Length
3 15/16"
Width
3 3/8"
Height
1 1/16"
Weight
1.1 lbs
Shipping Weight
1.5 lbs
Model:
SLB-0102
Manufacturer:
Green Energy Technology solarland
Manufacturer Part #:
SLB-0102
Made In:
China
Order Line: 1-800-362-5397
M–F 6am–5pm PST

Tech Help: 541-474-4421
Fax: 541-471-6014
276 Tech Way, Suite A
Grants Pass, OR 97526