Pulse Tech 12v 6 Watt Solar Charger with Desulfator Controller SP-6
Price:

$

179.00
No Tax

BatteryStuff Part #:
SP-6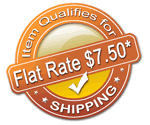 This Qualifies for FLAT RATE Shipping of $7.50 per order*
Small, lightweight and extremely durable solar charging in a one stop package.
Pulse Tech 12v 6 Watt Solar Charger with Desulfator Controller SP-6
Product Description
Industrial design 6 watt unbreakable solar panel with Pulse Tech patented pulse technology. Scientifically proven, our unique technology actually reduces the size of performance robbing lead sulfate crystals that form on all battery plates. By reducing the size of these damaging crystals, batteries can work at Maximum capacity even when your vehicle is sitting unused. Batteries work harder and longer that you ever thought possible. Our Technology has been used by commercial and military customers worldwide for 15 years. Only we offer this exclusive technology that gives you these benefits.
Features
Exclusive pulse technology
480 mA operating current
The 6 watt panel is UNBREAKABLE
Quick, easy to use
5 year warranty
Comments
Excellent for maintaining larger 12 volt batteries, average of 2.5 to 3.2 amp of trickle charger per sunny day. *Flat Rate shipping is for the lower 48 states only.
Most Helpful Customer Reviews

School Bus (Van)

By

partsman_ba

on Mar 27, 2015,

Ownership:

Just Bought,

Knowledge Level:

AC/DC is more than a band

Pros: We have 6 Chevy cutaway vans that are used intermittently and have a lot of extra loads on the battery. Decided to mount them on the hoods as the vans park facing south. Pretty easy to install - used heavy-duty double-sided tape (the kind you attach window ventshades with) to attach the panel, clipped the wire to the back of the hood using chassis clips (see http://www.picowiring.com/pdf/Cat-28.pdf for an example) and passed the wires through the side body opening. Keeps the battery topped up!

Cons: None really - I mean, it doesn't charge too well on rainy days, but that's really an issue with the sun and not the solar charger...

Other Thoughts: I really like the form factor of these units. Really gives a lot of options for mounting - hood, roof, even front bumper if you think no one will try and step up on it.

Review Summary

5.00 Average Rating

Rated

5.00

/

5

Stars from

1

customer reviews.

Write Your Own Review

Do you own the SP-6? Please, tell us what you think about it. It helps us provide you with better products. Please note that it may take up to 72 hours for your review to appear.

Write a review
Technical Specifications
Length
16
Width
4 7/8
Height
3/16
Weight
2
Shipping Weight (lb.)
4
Desulphation Pulse
constant
Maximum Power Output, Continuous
5 watt, 480mA
Rated Power
5 Watt
Operating Voltage
12v
Operating Current
480mA
Model:
SP-6
Manufacturer:
Pulse Tech
Manufacturer Part #:
SP-6
Made In:
China
Order Line: 1-800-362-5397
M–F 6am–5pm PST

Tech Help: 541-474-4421
Fax: 541-471-6014
276 Tech Way, Suite A
Grants Pass, OR 97526