Priority Start 12v Automotive Low Voltage Disconnect Switch PS12Vauto
Price:

$74.00
No Tax

Not In Stock
BatteryStuff Part #:
PS12Vauto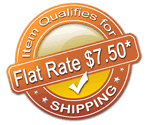 THIS ITEM HAS BEEN DISCONTINUED BY THE MANUFACTURER AND CAN BE REPLACED WITH THE PS12VPRO
Protects you from dead batteries, even if you leave the lights on!
This item has been DISCONTINUED. The new version is the PS12VPROX.
Priority Start 12v Automotive Low Voltage Disconnect Switch PS12Vauto
Product Description
PriorityStart! stops dead batteries automatically before damage occurs. Constantly monitors voltage. Senses any voltage drain and automatically disconnects the battery. Then automatically reconnects when you step on brake pedal or operate the light switch. Microchip technology. Universal design fits any 12 volt application.
A dead battery costs you money, time, and exposure to dangerous situations. The very first time you have a "dead" battery you've lost up to 1/2 of its starting life and done irreparable damage.
Using portable battery starters, dangerous jumper cables, or questionable cigarette lighter devices means you have already had a "dead battery" and permanently damaged your battery, potentially damaging the vehicle computer and electrical system.
No waiting for emergency trucks, or calls for help. Stay safely inside your vehicle. No lifting hood or attaching dangerous jumper cables. No buttons or switches to push. Pays for itself 1st time it saves you, ready to protect every time you need it.
Protecting the battery is key to your security! Since PriorityStart! automatically reconnects the battery in most vehicles when a door is opened, the security system, or lift gate is immediately restored.
No hard wiring or modifications. Transferable. UL tested. Certified to SAE J1171, ISO 8846, CE, USCG Certified, and E-marking. Maintenance free.
Always on Duty–Always Remembers–Providing you Safety and Peace of Mind.
Features
Easy to attach–3 Connections
Maximizes Battery Life–Maintenance Free
Handles 1,000 Starting Amps
Engine Run & Hazard Light Protection
Universal Design Fits Both Top-Post or Side-Post Batteries
Comments
*Flat Rate shipping is for the lower 48 states only.
Review Summary

5 Average Rating

Rated

5

/

5

Stars from

0

customer reviews.

Write Your Own Review

Do you own the PS12Vauto? Please, tell us what you think about it. It helps us provide you with better products. Please note that it may take up to 72 hours for your review to appear.

Write a review

Technical Specifications
Weight
1.5
Shipping Weight (lb.)
2.0
Regulatory Approval
UL tested. Certified to SAE J1171, ISO 8846, CE, USCG Certified, and E-marking
Manufacturer:
BLI/Priority Start
Manufacturer Part #:
PS12Vauto
Made In:
USA
Order Line: 1-800-362-5397
M–F 6am–5pm PST

Tech Help: 541-474-4421
Fax: 541-471-6014
276 Tech Way, Suite A
Grants Pass, OR 97526