view large photo
Swipe Photo to View More
SSTX20CH-FP Scorpion Stinger 12v 507 CCA LiFePo4 Extreme High Output Battery
SSTX20CH-FP
Free Ground Shipping to Lower 48 States *
Quantity
---
OR Simple-Click Checkout
---
In Stock
Lithium Batteries are discharged to 30% of capacity for shipping requirements. When you receive the battery it will need to be charged prior to use. This is the battery charger we recommend for this battery: OptiMATE Lithium TM-471.
---
Product InformationStore Part Number: SSTX20CH-FP
Overview

The new Scorpion Stinger Lithium Iron Phosphate battery offers an increased performance over traditional lead-acid chemistry batteries, while also shaving an incredible amount of weight off the battery. These Scorpion Stingers will crank your bike, atv or scooter easily, while also weighing up to 60% less than the OEM lead acid.
Scorpion Batteries are made by one of the largest battery manufacturers in the world and uses their prominence and experience to create the best products possible at the least possible cost.
Scorpion Battery was founded on the principle that superior quality batteries can be brought to the market at an economically pleasing price. Keeping true to that principle, Scorpion is proud to now offer the finest LiFePo4 Lithium powersports batteries available anywhere.
Scorpion Stinger lithium powersports batteries bring innovation to a new level. All Scorpion Stinger batteries use only the finest prismatic lithium cells, meaning that you get stronger starts, and more cycles than our competitors. Each battery contains its own Battery Management System built right into the battery ensuring that the internal cells stay balanced.
Features an onboard charge level display with the push of a button! The Scorpion Stinger Lithium Powersports batteries are simply the best lithium battery out there, and to top it off, they are offered at the best MSRP of most major Lithium LiFepo4 or Lithium Ion battery. For use in motorcycle, ATV, scooter, or UTV (side by side) starting applications.
BatteryStuff understands the importance of getting a replacement battery right away. We usually ships all batteries the same day as ordered if received before 1:30pm (Pacific).
Features
The highest standard in Lithium powersports batteries.
Heavyweight punching power in a featherweight package.
Scorpion Stinger LiFePo4 batteries are lightweight and designed to outperform their equivalent OEM Lead Based Battery.
Superior Cranking Performance
Quickly Re-Charges after start in as little as 6 minutes
Integrated BMS works with existing charging systems on bikes 1990 and newer.**
Recommended to be maintained with a Powersport Lithium Charger. We suggest the OptiMATE TM-471.
Warranty: 2 year free replacement when used in prescribed applications*.
Comments
As the graph below suggests, Scorpion Stinger batteries hold a higher resting voltage than other batteries. They start higher and finish higher, meaning that during times of heavy load they have the ability to crank the starter faster and longer than the competition. For starting batteries, most of the work happens in the first 5-10 seconds. More voltage throughout that range ensures quicker starts and less strain on the starting system.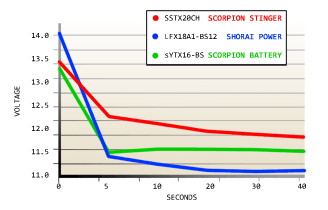 All the test batteries were fully charged and maintained for 48 hours on shop grade smart charger. Starting voltages achieved by fully charging batteries, then removing battery from any outside input for 24 hours. Each battery was tested under equal conditions at 72° F, using a true 100 AH load to simulate starting.
Scorpion does not rate their batteries with an AH rating*. Instead, they graph out the real performance of the batteries, side by side the best lead-acid and lithium batteries on the market. This gives you the confidence to know exactly how much starting power your Scorpion Stinger has, without giving a seemingly inflated number, or a confusingly low number that is not practical. *See more detailed explanation
here
.
LiFePo4 Batteries are sensitive to heat. If the battery will be sitting directly on top of the engine and/or surrounded by the oil pan, we do NOT recommend using any Lithium Battery.
**
Over-Charge protection will not protect from a faulty/old Voltage Regulator spiking Hi-Voltages to Battery. If you have a Pre-1990s Motorcycle replace your voltage regulator; it is over 30 year old and most likely broken by now.
*
Warranty applies ONLY to vehicles listed below. As per manufacturer, ALL other use will void battery warranty.
Works In
Vehicles that SSTX20CH-FP works in
| | |
| --- | --- |
| BMW 1200cc R1200RT | (2014-2020) |
| BMW 1600cc K1600 Bagger | (2017-2020) |
| Cagiva 900cc Elefant E900 | (1992-1999) |
| Honda 1000cc VF1000R, F | (1984-1986) |
| Honda 1000cc XL1000V Varadero | (2010-2012) |
| Kawasaki 1100cc ZR1100 | (1992-1995) |
| Kawasaki 1500cc VN1500-D, E, N Vulcan Classic | (1996-2009) |
| Kawasaki 1500cc VN1500-G, J, L, R Vulcan Nomad, Drifter | (1999-2005) |
| Kawasaki 1500cc VN1500-P Vulcan Mean Streak | (2002-2003) |
| Kawasaki 1600cc VN1600-A Vulcan Classic, D, Nomad | (2003-2009) |
| Kawasaki 1600cc VN1600-B Vulcan Mean Streak | (2004-2009) |
| Kawasaki 1700cc VN1700 Voyager, Nomad, Vaquero | (2009-2020) |
| Kawasaki 2000cc VN2000-A Vulcan | (2004-2012) |
| Moto Guzzi 1100cc California, Special, Jackal, Breva, Griso | (2005-2013) |
| Moto Guzzi 1200cc 1200 Sport | 2009 |
| Moto Guzzi 1200cc Breva 1200 | (2009-2010) |
| Moto Guzzi 1200cc GRISO V8 | (2009-2017) |
| Moto Guzzi 1200cc Norge | (2009-2016) |
| Moto Guzzi 1200cc Sport 1200 | (2010-2013) |
| Moto Guzzi 1200cc Sport, ABS | (2009-2010) |
| Moto Guzzi 1200cc Stelvio | (2008-2017) |
| Moto Guzzi 1380cc Eldorado | 2016 |
| Piaggio - Gilera 500cc Nexus 500ie | 2010 |
| Suzuki 1500 VZ1500 Boulevard, M90 | (2009-2011) |
| Suzuki 1500cc VL1500 Boulevard C90 | (2014-2018) |
| Suzuki 1500cc VZ1500 Boulevard M90 | (2012-2018) |
| Suzuki 1600cc Marauder, Boulevard M95 | (2004-2005) |
| Suzuki 1800cc VLR1800 (C109R) | (2006-2013) |
| Suzuki 1800cc VZR1800 (M109R) | (2006-2018) |
| Suzuki 500cc LT-A500 King Quad | (2010-2018) |
| Suzuki 500cc LT-A500F Vinson 4WD | (2002-2007) |
| Suzuki 500cc LT-F 500F Vinson Manual 4WD | (2003-2007) |
| Suzuki 700cc LT-A700X King Quad | (2005-2007) |
| Suzuki 750cc LT-A750 King Quad | (2014-2018) |
| Suzuki 750cc LT-A750X King Quad | (2007-2013) |
| Suzuki 800cc VX800 | (1990-1993) |
| Triumph 800cc Tiger 800 | (2011-2017) |
---
Tech Specs
Dimensions (LxWxH): 5 7⁄8 x 3 7⁄16 x 4 1⁄8 in
Part Number: SSTX20CH-FP
Weight: 2.75 lb
Maximum Charging Voltage: 15.0 V
Manufacturer: Scorpion
Battery Polarity:
C.C.A.: 507 - As tested Midtronics model #417755
Amp/Hr: *See Notes
Chemistry: Lithium-Iron-Phosphate
Warranty: 2 year free replacement when used in prescribed applications*.
Manufacturer Part #: SSTX20CH-FP
Made In: China
---
Customers who bought this product also bought:
---
Reviews and Ratings
---
Holy Moly Batman
Pros: 1) CRANKING POWER, 2) CRANKING POWER, 3) CRANKING POWER, 4) 507 Cold Cranking Amps (WOW) 5) A built in Battery Status Meter.
Cons: NONE........................
I've been using a Gel Cell battery on my highly modified V-Twin Motorcycle since I had significant engine work done and even then, it's still always been a very hard starter, (Example: Big Explosions and fire out of the exhaust pipe while it slowly labored to crank over). I would dread starting it around people, as you just never knew what it was going to do.

Even though Tech Support didn't recommend using this battery for a high compression engine, after educating myself on the stats of this battery, I just had to see for myself......

I just installed the SSTX20CH-FP Scorpion Stinger on Friday night and HOLY S+++, did that make a difference. Let's just say I won't be buying a Compression Release now.

I drove it non stop the whole weekend and to work on Monday, all without a single hickup.

I consider this purchase to be at the very top of my list of upgrades, as it has literally transformed my Hot Rod Cruiser from a Fickle Pain In My Rear into a RELIABLE BEAST.
Written by
Rik Day
on Jun 30, 2015.
Ownership:
Just Bought.
Knowledge Level:
Genius is my way of life — (27 of 28 customers found this review helpful
---