Deltran Battery Tender Chargers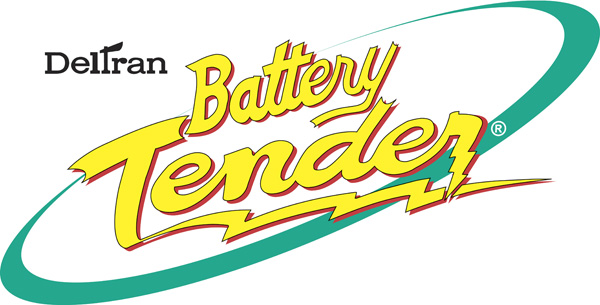 Over the past fifteen years hundreds of thousands of Deltran's Battery Tenders have been sold building a reputation of quality and dependability. If you're serious about your battery, it's time to get a Deltran Battery Tender. Whether you are looking for a Battery Tender to simply maintain your vehicle in the off season, or if you are looking for a full charging system, there is a Battery Tender solution for you.
Why Choose Deltran Battery Tender?
Battery Tender chargers and maintainers are designed to charge a wide range of lead acid batteries preventing damage that is typically caused by most trickle chargers. All Battery Tender chargers:
are fully automatic by switching output voltage to a safe level that eliminates needing to always check the condition of the battery.
delivers full output power with input AC line voltages as low as 90 VAC.
draw zero current from the battery when AC power is disconnected. Some models draw less than 1 milliamp from battery.
are built to be compact and lightweight while maintaining durability during normal wear and tear.
provides visual indication using a combination of colored lights to indicate the progress of charging.
Here is what Old Cars Weekly News & Marketplace had to say about the Deltran Battery Tender: "Not only will the Battery Tender pay for itself many times over, but you'll never face a dead battery again."
*Exclusions may apply for large, oversize items. Flat Rate shipping is for the lower 48 states only.
FAQs
Deltran is well-known for building excellent motorcycle Battery Tenders for a range of battery performance needs:
Deltran Motorcyle Battery Tender Chargers
Each Battery Tender provides continued battery performance for all motorcycles makes and models, including:
Benefits and Specifications of Deltran Battery Tender Chargers and Maintainers
Fully Automatic so you don't have to worry about over-charging
Full Output Power if you have low AC line conditions
Minimal to zero current draw from batteries
Take it with you or store it easily with its compact, lightweight construction
Always know its charge state with a clear visual indicator
Saves money in replacement batteries
Highest quality, fast-charging convenience and performance
Up to 10 year Warranty
Extend Battery Life up to 3 Times
Order Line: 1-800-362-5397
M–F 6 am–5 pm PST

Tech Help: 541-474-4421
Fax: 541-471-6014
276 Tech Way, Suite A
Grants Pass, OR 97526