Dantona 9.6v 2000 mAh NiCD Battery Upgrade Makita Power Tool BSPT51
Total price with shipping
Free Priority Mail Shipping to USA.
Price:

$

52.00
No Tax

BatteryStuff Part #:
BSPT51
Replaces:
9000, 9001, 9002, 9033, BSPT50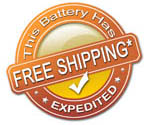 This battery normally ships via USPS Priority mail, with expected* delivery time of 2-4 days. MAKE SURE YOU USE A POST OFFICE DELIVERABLE ADDRESS! Customer will be responsible for shipping charges on returns for undeliverable addresses.
Dantona 9.6v 2000 mAh NiCD Battery Upgrade Makita Power Tool BSPT51
Product Description
This battery is an upgrade to the original battery, offering an extra 25% capacity over the OEM. Our Makita replacement batteries have been carefully selected for their durability, quality, and overall performance. Guaranteed to be fully compatible with your listed tool, this battery will provide excellent performance at a reasonable price. This NiCad battery will meet or exceed the original manufacturer specifications, and is designed to work with your original OEM charger. Assembled in Hong Kong with superior Japanese internals.
Features
9.6v
2000mA
Fits MAKITA: 4190DW, 4300DW, 4390DW, 5090DW, DW, 6012HDW, 6092DW, 6093DW, 6094DW, 6095DW, 632007-4, 6891DW, 6900DW, 8400DW, 8402DW, 9000, 903DW, DA390DW, DA391DW, ML900, ML901, ML902, T220DW, UM1690D, UM1691D
Comments
*BatteryStuff understands the importance of getting a replacement battery right away and usually ships all batteries the same day as ordered if received before 1:30pm (Pacific). Typically allow 2-4 days delivery time, however USPS does not guarantee delivery times with priority mail. For best results discharge NiCad batteries completely before re-charging. This will prevent the dreaded NiCad memory effect, which can lead to shorter battery life. This is something that is unique to this chemistry(NiCad), and should not be done with lead acid batteries.
Review Summary

0 Average Rating

Rated

0

/

5

Stars from

0

customer reviews.

Write Your Own Review

Do you own the BSPT51? Please, tell us what you think about it. It helps us provide you with better products. Please note that it may take up to 72 hours for your review to appear.

Write a review
Technical Specifications
Length
1.80
Width
1.0
Height
7.08
Weight
1.4
Shipping Weight (lb.)
2.0
DC Output Amps
2.0 mA
DC Output Voltage
9.6 V
Warranty
1 Year manufacturer defects
Amp/Hr
2000 mA
Model:
BSPT51
Manufacturer:
Misc. Accessories & Tools
Manufacturer Part #:
BSPT51
Made In:
Hong Kong
Order Line: 1-800-362-5397
M–F 6am–5pm PST

Tech Help: 541-474-4421
Fax: 541-471-6014
276 Tech Way, Suite A
Grants Pass, OR 97526