MK Battery 12 Volt 245 AH Deep Cycle AGM Battery 8A8DLTP-DEKA
Price:

$

629.00
No Tax

BatteryStuff Part #:
8A8DLTP-DEKA
LIMITED TIME SHIPPING SPECIAL FOR THIS BATTERY(starts at $35.00!)
MK Battery 12 Volt 245 AH Deep Cycle AGM Battery 8A8DLTP-DEKA
Product Description
Advanced American Technology (Made in the United States) and the use of the most modern computer-aided design and manufacturing techniques combine to make MK Battery's Sealed AGM Batteries the standard by which all other AGM batteries are judged. Made In the United States.
MK Battery supplies batteries that are manufactured under the most versatile computer control battery formation system and technology to achieve the highest quality. The automated, computer controlled system provides programmed functions for steps of current, time, voltage, temperature and event control to match the performance specifications of your application requirements.
This 8A8D battery is made in to fit where other 8D size batteries are being replaced. It is the perfect battery for RV, Marine, UPS, Standby Power, and other systems where you need a lot of power availible.
NO SPECIAL HANDLING REQUIREMENTS for this 8A8D battery~ NON-SPILLABLE by DOT (Department of Transportation), ICAO (International Commercial Airline Organization) and IATA (International Airline Transportation Association) definitions.
Features
Maintenance Free
Valve Regulated
Float and Cycle Use
High Discharge Rate
Absorbed Glass Mat (often referenced as Gel Cell)
Leak Proof/Spill Proof
Group Size 8D AGM Battery
Tank formed plates
Temperature control formation
Constant current formation
High quality battery/better uniformity
Constant voltage formation
Popular Applications: RV, Marine, Solar, Communications, Sump Pumps, Lifts, Etc.
MK AGM Batteries requires no special battery charger as do GEL CELL batteries. If uncertain if the battery charger you currently using will properly charge an AGM battery please consult us before using the charger. Typically RV and Marine charging systems require no modification when using MK AGM Batteries.
MK Battery is a wholly owned subsidiary of East Penn Mfg Co (DEKA) of Lyon, PA.
Comments
Shipping valid within the 48 contiguous states. Batteries ship from various warehouses and usually deliver within 7 working days.
Most Helpful Customer Reviews

Deka 245 AGM 8a8dltp

By

SOLARFREAKTECH

on Mar 19, 2014,

Ownership:

Just Bought,

Knowledge Level:

Genius is my way of life

(89 of 172 customers found this review helpful)

Pros: This is a very heavy monster duty battery with thick plates and fair Amp hour ratings for a 12 volt unit. No need for acid check. Less corrosion in the battery box. I have 3 strings of 245 AH on a 48 VDC solar system. Most of the information is very clear but I still have questions. Does AGM type of battery need to be equalized? What is the voltage that must be set for the absorption stage? What is the cycle of life on a 20% Depth of Discharge, 30% DOD, and 40% DOD, knowing that 50% an lower DOD's are not recommended. This information for me is very important and I need to know since some information is not clear enough and the retail seller wasn't to helpful neither. I will appreciate your help.

Cons: I cant tell to much about cons except for the size that it's huge and you need a good space to accommodate the batteries. Another thing is that the amp hour rating is not as big as the price. The very last thing I would say is the lack of information related to cycling and depth of discharge and life expectancy in days or years.

Other Thoughts: Other than that is a very good product that should do what is meant to do. I guess the time will the me how good they are and how long they last at a certain depth of discharge. In my case I discharge my bank @ - 25% daily leaving it about 80% charged and the most would be abot 35% discharged some days after a few cloudy days. I would like to know the life cycling @ 35% discharged daily. That will be great telling me how long they will last!

Review Summary

3.00 Average Rating

Rated

3.00

/

5

Stars from

1

customer reviews.

Write Your Own Review

Do you own the 8A8DLTP-DEKA? Please, tell us what you think about it. It helps us provide you with better products. Please note that it may take up to 72 hours for your review to appear.

Write a review
Technical Specifications
Length
20.75
Width
11
Terminal Height
11
Height
11
Weight
158
Shipping Weight (lb.)
158
DC Output Voltage
12 V
Operating Temperature
-40 ° to 140 °F
BCI Group
8D
Handle
1
CA (@32°F)
1725
Reserve Minutes 25A
480
Amp/Hr
245
C.C.A.
1350
20 Hr. Rate Amp/Hr
245
Charging Voltage Standby Use
13.5–13.8 V
Resistance, milliohms
3
Cycle Service Charging Voltage
14.4–14.8 V
Capacity at C/100
257
Capacity at C/20
245
Model:
Group 8D
Manufacturer:
MK/East Penn/Deka
Manufacturer Part #:
8A8DLTP-DEKA
Made In:
USA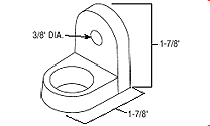 Instruction Manual

Download Specifications
Order Line: 1-800-362-5397
M–F 6am–5pm PST

Tech Help: 541-474-4421
Fax: 541-471-6014
276 Tech Way, Suite A
Grants Pass, OR 97526