Universal 12v 35 AH Deep Cycle Sealed AGM Battery UB12350-D5722
Total price with shipping
Free Priority Mail Shipping to USA.
Was: $97.00
Sale Price:

$

72.50

No Tax

BatteryStuff Part #:
UB12350-D5722
Replaces:
Pride BATLIQ1017, Sail 6 GFM, SP12-35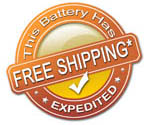 This battery normally ships via USPS Priority mail, with expected* delivery time of 2-4 days. MAKE SURE YOU USE A POST OFFICE DELIVERABLE ADDRESS! Customer will be responsible for shipping charges on returns for undeliverable addresses.
Universal 12v 35 AH Deep Cycle Sealed AGM Battery UB12350-D5722
Product Description
The Universal AGM Battery is a state of the art design battery made in Asia. This battery is a sealed (Non-Spillable) requires no addition of water during the life of the battery. The AGM Battery is TRUE DEEP CYCLE can be mounted in any position, requires no maintenance and may be transported by Air or Ground without any special handling regulations. When an AGM battery is charged no hazardous fumes escape the battery case, gases are processed within the battery itself.
Features
AGM design yields excellent Deep Cycle service Performance rating
Less than 3% per month standing self discharge.
Maintenance Free
Valve Regulated
Float and Cycle Use
AGM design may offer greater reliability in extreme use applications
Leak Proof/Spill Proof
Comments
Typically AGM batteries DO NOT require a special battery charger as charge requirements are similar to Wet Cell or other types of Maintenance Free batteries. If you are in unsure about the charger you need please contact one of our technical advisors.
Discount quantity pricing available please contact us by email or by phone during business hours.
Recommeded Battery Box

120170-001
QuickCable's Standard QuickBox 120170-001 fits all U1 group sizes batteries, including spiral cell and high performance models. With features like our QuickLock cover, mounting holes in the handles, and materials tested to perform in all conditions, these are the battery boxes of choice.
Review Summary

5.00 Average Rating

Rated

5.00

/

5

Stars from

9

customer reviews.

Write Your Own Review

Do you own the UB12350-D5722? Please, tell us what you think about it. It helps us provide you with better products. Please note that it may take up to 72 hours for your review to appear.

Write a review
Technical Specifications
Length
7.75
Width
5.19
Height
6.14
Terminal Height
7.13
Weight
22.5
Shipping Weight (lb.)
26
C.C.A.
300
Maximum Charging Current
8.5 A
DC Output Voltage
12 V
Charge Voltage
14.4 to 15 V
Float Voltage
13.5 to 13.8 V
Enclosure
ABS Plastic
Regulatory Approval
DOT, ICAA, IATA, IMDA
BCI Group
U-1
Handle
1
Amp/Hr
35AH @ 20Hr Rate
Max. Discharge Current (A) 5 sec.
180
Resistance, milliohms
10
Manufacturer:
Universal Power Group
Manufacturer Part #:
UB12350-D5722
Made In:
Asia
Instruction Manual

Download Specification Sheet
Order Line: 1-800-362-5397
M–F 6am–5pm PST

Tech Help: 541-474-4421
Fax: 541-471-6014
276 Tech Way, Suite A
Grants Pass, OR 97526