Battery Tender 12.5' SAE Quick Disconnect Extension Cable BT12.5
Price:

$

9.00
No Tax

BatteryStuff Part #:
BT12.5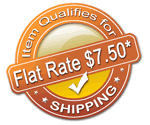 This Qualifies for FLAT RATE Shipping of $7.50 per order*
When you need extended cables for your charger, but don't need to run the entire 25ft that has been available up until now. This will plug into all the Battery Tender products, as well as other chargers as listed on our website.
Battery Tender 12.5' SAE Quick Disconnect Extension Cable BT12.5
Product Description
Quick Disconnect 12.5 foot DC output extension cable designed for Battery Tender chargers. Made for Battery Tender chargers but this accessory will also work with other product lines as listed on our website.
Features
Quick connect
Fits any SAE 2 way plug
Comments
* Flat Rate shipping is for the lower 48 states only.
Most Helpful Customer Reviews

Very Convenient

By

James Art Ville

on Oct 07, 2011,

Ownership:

Use regularly,

Knowledge Level:

I know what an outlet is

(86 of 176 customers found this review helpful)

Pros: I have a battery charger in the shed of my car port. But I run the extension cable through a hole out to the car. This way, I can keep my shed locked but still connect my charger to my car battery on a daily basis.

Cons: No cons

Other Thoughts: It's very simple, and it does what it's designed to do.

5 stars

By

Anonymous

on Dec 05, 2011,

Ownership:

Use regularly,

Knowledge Level:

Electricity doesn't scare me.. usually

(78 of 153 customers found this review helpful)

Pros: Price, quality, ease of use

Cons: None

Other Thoughts: Batterystuff.com ships promptly and only sells quality items that the consumer wants and needs. If it's battery related, come here first, as you should not need to go anywhere else. I have a Battery Tender because I have 2 cars that are driven seldom and a riding lawn mower that will sit unused for months at a time. I recommend BatteryStuff.com to people with any battery or battery type needs. They cannot be beat.

Review Summary

5.00 Average Rating

Rated

5.00

/

5

Stars from

3

customer reviews.

Write Your Own Review

Do you own the BT12.5? Please, tell us what you think about it. It helps us provide you with better products. Please note that it may take up to 72 hours for your review to appear.

Write a review