Battery Tender Quick Disconnect Fused Ring Terminals BTLR081-0069-6
Price:

$

6.95
No Tax

BatteryStuff Part #:
BTLR081-0069-6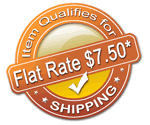 This Qualifies for FLAT RATE Shipping of $7.50 per order*
This item works with Battery Tender, Battery Minder, and Global solar products.
Battery Tender Quick Disconnect Fused Ring Terminals BTLR081-0069-6
Product Description
Quick Disconnect Ring Terminals–Fused 18 inch DC output lead set made to be permanently attached to the battery. This allows the user to attach the battery charge via the quick disconnect without the trouble of accessing the battery. Made for Battery Tender chargers but this accessory will also work with other product lines as listed on our website. # 081-0069-6
Comments
* Flat Rate shipping is for the lower 48 states only.
Most Helpful Customer Reviews

Quick Disconnect Ring Terminals

By

Anonymous

on Dec 20, 2011,

Ownership:

Use regularly,

Knowledge Level:

Electricity doesn't scare me.. usually

(87 of 167 customers found this review helpful)

Pros: This is a "no-brainer". I have used two of them for years. One on the Harley, one on the Lawn Tractor. Works as advertised. On the Harley I run the pigtail out the side and it stores away nicely beneath the leather flap on the OEM FLSTC seat. I use the alligator clamps on the Lawn Tractor.

Cons: None

Other Thoughts: Be sure to disconnect before driving off. :-)

DelTran Battery Tenders

By

Bernie

on Dec 05, 2013,

Ownership:

Use regularly,

Knowledge Level:

Genius is my way of life

(80 of 158 customers found this review helpful)

Pros: The DelTran Battery Tender is great. I needed extra quick disconnects to add to other cars. This is the only way to keep you cars start ready.

Cons: None

Quick disconnect ring terminals fused

By

Chagrined

on Dec 29, 2012,

Ownership:

Use regularly,

Knowledge Level:

AC/DC is more than a band

(89 of 166 customers found this review helpful)

Pros: Quick disconnect ring terminals are extremely useful in that they can be left connected to a battery's terminals. When you want to charge the battery, or remove a charger, you just unplug the charging cord, then plug in the attached plastic plug cover to protect the terminals going to your battery.

Cons: The only con is that the protective plastic plug cover mentioned above can break from its tether when the cord end is exposed to weather elements, especially cold weather. This has happened to all of my ring terminal cords with cold-weather exposure.

Other Thoughts: I would prefer a spade terminal to the ring terminal, just so the nuts, etc., on an automobile battery don't have to be completely removed to install the quick-disconnect cable. The attached plug cover is a nice touch, but the formulation of the plastic tether could be improved to be more durable in cold weather.

Review Summary

4.67 Average Rating

Rated

4.67

/

5

Stars from

3

customer reviews.

Write Your Own Review

Do you own the BTLR081-0069-6? Please, tell us what you think about it. It helps us provide you with better products. Please note that it may take up to 72 hours for your review to appear.

Write a review