Battery Tender White Disconnect Alligator Clips 6 Volt 081-0069-2
Price:

$

6.95
No Tax

BatteryStuff Part #:
081-0069-2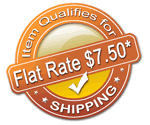 This Qualifies for FLAT RATE Shipping of $7.50 per order*

This accessory is specifically for the Battery Tender Plus 6 volt charger. May not fit other applications.
Battery Tender White Disconnect Alligator Clips 6 Volt 081-0069-2
Product Description

This extra set of Deltran Battery Tender alligator clips fits the 6 Volt Battery Tender Plus charger only. →
The 081-0069-2 cable set comes with a white Molex connector, which is not compatible with the 2 prong SAE quick disconnect that is common for most 12 volt chargers. The cable also has an inline fuse on the positive alligator clip.
Use these alligator clips as a replacement connector or as an extra set for more than one application.
Features
The alligator clip cable set is 18" long.
White molex connector
Inline fuse
Comments
*Flat Rate shipping is for the lower 48 states only.
Review Summary

0 Average Rating

Rated

0

/

5

Stars from

0

customer reviews.

Write Your Own Review

Do you own the 081-0069-2? Please, tell us what you think about it. It helps us provide you with better products. Please note that it may take up to 72 hours for your review to appear.

Write a review
Technical Specifications
Length
18"
Weight
.4
Shipping Weight (lb.)
1
Inline Fuse
7.5 A
Model:
081-0069-2
Manufacturer:
Deltran
Manufacturer Part #:
081-0069-2
Made In:
China
Order Line: 1-800-362-5397
M–F 6am–5pm PST

Tech Help: 541-474-4421
Fax: 541-471-6014
276 Tech Way, Suite A
Grants Pass, OR 97526