Samlex 12v 15 Amp 3 Bank Automatic Smart Charger SEC-1215UL
Price:

$

131.25
No Tax

BatteryStuff Part #:
SEC-1215UL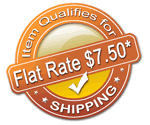 This Qualifies for FLAT RATE Shipping of $7.50 per order*
This unit will charge your batteries and power your load at the same time!
Samlex 12v 15 Amp 3 Bank Automatic Smart Charger SEC-1215UL
Product Description
Samlex 3-Stage 3-Bank Battery Chargers employ switch mode technology which is highly efficient, lightweight, and quiet. Samlex charger is capable of managing flooded, AGM and gel cell batteries by the setting of a dip switch. The same dip switch allows the user to set the charger to a power supply setting. Fully automatic "Connect and Forget" operation utilizes LED "Power ON" and ammeter monitoring. Protections against short circuit, over current, and reverse battery connection.
Charger should be mounted in vertical position in dry, well ventilated location.
Typical applicatons:
Automotive
Recreational vehicles
Marine communications sites
Battery back-up systems
Features
Advanced switch-mode design
User selectable 2 or 3 stage charging
Can be used as Power Supply
Safe for gel cell batteries
Easy Mounting system
Maximum charging current of 15 Amps
Fully automatic operation
Light weight and compact
Reverse polarity connection protected
Optimal 3 Step Charging
Demand Sensing
Reverse Polarity Protection
Over Voltage Protected
Short Circuit Protection
Overload Protection
Line Regulation
Ammeter
2 Year Warranty
Standard 458, FCC Compliant
Comments
*Flat Rate shipping is for the lower 48 states only.
Most Helpful Customer Reviews

Samlex 12v 15 Amp 3 Bank Automatic Smart Charger SEC-1215UL

By

Anonymous

on Jan 21, 2014,

Ownership:

Just Bought,

Knowledge Level:

Genius is my way of life

(84 of 159 customers found this review helpful)

Pros: It works magnificently

Cons: You need to do internal modifications to change between 120 VAC and 220 VAC

i would not buy from anyone else

By

prag67

on Sep 24, 2013,

Ownership:

Just Bought,

Knowledge Level:

AC/DC is more than a band

(82 of 157 customers found this review helpful)

Pros: Battery Stuff staff was evry helpful in helping me chose the right charger for my application. they even credited me the first one i purchased by mistake without hesitation. the charger I have now works great and I am very happy with mny purchase.

Cons: none

Other Thoughts: I wish I knew this company years ago. purchased a charger 3 years ago and it died after 9 months had a replacement shipped to me and that one died after 7 months. I never went back.

Review Summary

5.00 Average Rating

Rated

5.00

/

5

Stars from

2

customer reviews.

Write Your Own Review

Do you own the SEC-1215UL? Please, tell us what you think about it. It helps us provide you with better products. Please note that it may take up to 72 hours for your review to appear.

Write a review


Technical Specifications
Length
8.4
Width
8.4
Height
3.25
Weight
4.2
Shipping Weight (lb.)
6.0
Max Current, During Bulk Charge
15 A
Absorption Voltage
14.0/14.4 V Switchable
Nominal Input Voltage (Preset)
120 VAC, 60 Hz, 3.3A
AC Input Volts
120/230 V Switchable
AC Input Volts Freq.
50/60 Hz
AC Input Volts Range
100–260 V
Float Voltage
13.5 V
Working Temperature
0° to +40° C
Output Banks
3
Regulatory Approval
ROHS Compliant
Manufacturer:
Samlex
Manufacturer Part #:
SEC-1215UL
Instruction Manual

Download Manual
Order Line: 1-800-362-5397
M–F 6am–5pm PST

Tech Help: 541-474-4421
Fax: 541-471-6014
276 Tech Way, Suite A
Grants Pass, OR 97526