Marinco Guest 12v 10 Amp Portable Marine Charger GU2612A
Price:

$

139.00
No Tax

BatteryStuff Part #:
GU2612A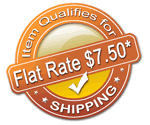 This Qualifies for FLAT RATE Shipping of $7.50 per order*
This is a portable waterproof charger with carrying handle. Nice for charging dockside.
Marinco Guest 12v 10 Amp Portable Marine Charger GU2612A
Product Description
Guest 12 Volt 10 Amp Portable Waterproof Charger
Guest Charge Pro 10 amp 3-stage fully automatic electronic single output charger designed to recharge Wet Cell, AGM, and Gel batteries. WATERPROOF, Shock & Vibration Resistant, Lightweight (LESS THAN 5 POUNDS), compact charger design, charges and maintains batteries at proper storage voltage without the damaging effects caused by trickled chargers.
Recommended uses: Bulk charge of flooded, AGM, and gel batteries under 125 amp hours and charge/maintenance of batteries partially discharged up to 250 amp hours. Some popular applications are auto, marine, RV, generators, industrial, etc. #GU2612A
Features
3-Stage electronic design
LED Charge Status
Completely Automatic: plug it in and forget it
Charge and Long Term Battery Maintenance: will never overcharge batteries
Waterproof and Silent
Vibration Proof and Shockproof
Lightweight under 5 pounds
Input AC Cord 6 feet long
Alligator clamp output with 4 foot cord
Waterproof & Easy Install
Optimal 3 Step Charging
Built-in Mode Indicators
Spark Free Hook Up
Reverse Polarity Protection
Over Voltage Protected
Short Circuit Protection
Overload Protection
Thermal Protection
2 year Warranty
Comments
* Flat Rate shipping is for the lower 48 states only.
Most Helpful Customer Reviews

Quest 12v 10amp marine Charger 2612A

By

Anonymous

on Feb 27, 2014,

Ownership:

Use regularly,

Knowledge Level:

Genius is my way of life

(78 of 154 customers found this review helpful)

Pros: I have had this charger for 11 years. I have used it 50 times. It has never let me down. Used it on inboard, outboard and auto. Easy to use, I let my daughter use it.

Cons: It works all the Time!

A Great and Durable Charger

By

Anonymous

on Mar 07, 2013,

Ownership:

When it goes, I'm giving it a eulogy,

Knowledge Level:

AC/DC is more than a band

(80 of 155 customers found this review helpful)

Pros: This great and durable charger is indestructable; I have had mine for over 10 years, and it is unmarked in any way and as good as the day i bought it. It will charge certain specialty marine gel batteries that my standard charger cannot charge, and I can use it anywhere without fear of damaging it in any way.

Cons: I have not experienced any downsides or poor performance from this charger.

Get it and forget it

By

Frankie

on Oct 20, 2013,

Ownership:

I've thought about naming it...,

Knowledge Level:

Electricity doesn't scare me.. usually

(78 of 153 customers found this review helpful)

Pros: I have owned this generator for well more than 10 years, and it looks and behaves like the day I bought it. I am tough on my tools and equipment and I expect a lot out of them, but this trooper is tougher than I am, and just will not quit. I bought it because neither of my other 2chargers could charge my marine gel batteries! but this one sure does. It is a great, dependable tool to have.

Cons: I have nothing negative that I can say about this charger and what I expect of it.

Review Summary

5.00 Average Rating

Rated

5.00

/

5

Stars from

3

customer reviews.

Write Your Own Review

Do you own the GU2612A? Please, tell us what you think about it. It helps us provide you with better products. Please note that it may take up to 72 hours for your review to appear.

Write a review


Technical Specifications
Length
7.5
Width
5
Height
2.5
Weight
4.5
Shipping Weight (lb.)
6
Output Voltage Charging
14+ V
AC Input Amps
2.5 A
AC Input Volts
115 V
AC Input Volts Freq.
50/60 Hz
AC Input Volts Range
100-130 VAC
Float Voltage
13.3 V
Enclosure Size
Thermal Plastic
Output Banks
1
Regulatory Approval
FCC Class A
Manufacturer:
Guest/Marinco
Manufacturer Part #:
GU2612A
Order Line: 1-800-362-5397
M–F 6am–5pm PST

Tech Help: 541-474-4421
Fax: 541-471-6014
276 Tech Way, Suite A
Grants Pass, OR 97526