view large photo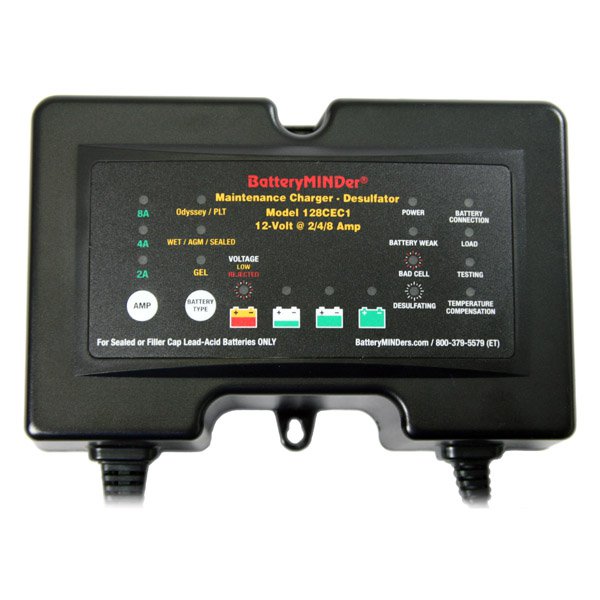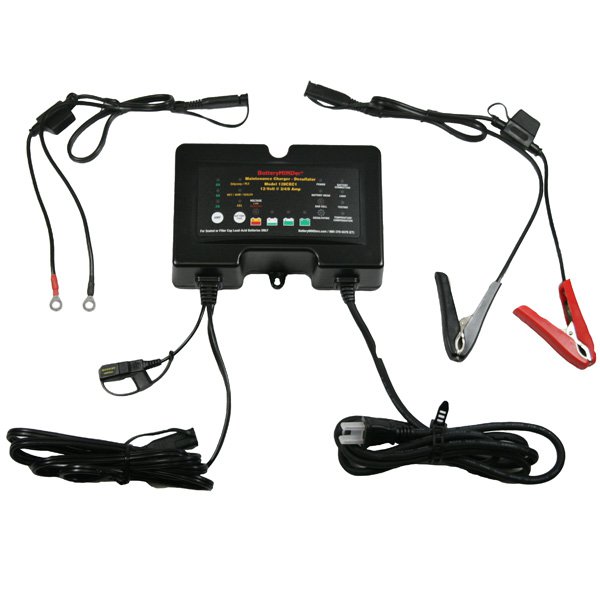 BatteryMINDer 12V 2/4/8 Amp Charger / Maintainer / Desulfator - 128CEC1
128CEC1
Was: $179.95
Sale Price:

$

159.99
- No Tax
This item qualities for
$7.50 Flat Rate Shipping*
In Stock
This Qualifies for FLAT RATE Shipping of $7.50 per order*
This is a BatteryStuff best pick. One of the most feature-filled, versatile units we carry, and priced well below suggested retail!
---
Product InformationStore Part Number: 128CEC1
Overview
BatteryMINDer Model 128CEC1: Don't just charge your batteries...Condition them! The most advanced series of Battery Charger-Maintainer-Desulfators that BatteryMINDer has every offered using SmarTECHnology™. Users can now determine the level of charge remaining in their battery, and if weak and in need of replacement, before going bad. In addition, units test for weak cells and will recover weak or severely discharged batteries that other chargers would reject.
Battery MINDer is highly recommended for batteries that have been neglected and abused.
Each Battery MINDer ships with one quick disconnect ring set and alligator clips. The Battery MINDer does have an ambient temperature sensor on the unit. The optional Battery MINDer Temperature Probe Extention Cable is available for purchase, and enables the charger to sense the temperature of the battery.
Features
For ALL 12-Volt Sealed and Wet "Filler Caps" Batteries Including AGM, GEL, PLT and Odyssey (Not for lithium, nickel–cadmium (NiCad), nickel–metal hydride (NiMH) or aircraft batteries)
Maintain up to 6 batteries at a time. (<a href="/battery-cables-connectors-plugs/small-charger-accessory-cables/batteryminder-multiple-battery-connector-210-ay.html">part# 210AY</a> - Sold Separately)
Guaranteed to never overcharge/undercharge
Maximize battery life and capacity, recovers weak batteries
Full-time 100% Pulse Desulfation
Intrusion Protected (water, moisture, dust) to IEC IP 65
Bad cell detection with auto-shutdown
Short circuit, spark, polarity and thermal runaway protection
User-selectable battery type and charge current
Very high efficiency. California CEC Approved
Automatically detects input AC power
ECO mode, very low power consumption
Ambient temperature compensation
18 color-coded LEDs indicating charging, desulfation stages, battery type selected, charge current setting, input power presence, correct battery connection, temperature compensation...
Rugged, vibration-resistant construction
6' AC cord, 6' DC cord with quick connector (SAE)
5 Year Manufacturer Warranty
Comments
Due to the different battery type setting the output voltages will vary depending on the battery type you select. The BatteryMINDer is one of the most advanced battery chargers on the market today. * Flat Rate shipping is for the lower 48 states only.

Recommend Accessories

BATMINDprobe
Battery Minder Extension Cable Temperature Probe is designed to attach to the battery and monitor the battery temperature. Battery Minder will adjust the charger voltage to protect against overcharge and undercharge during temperature extremes.

210-AY
Use in conjunction with BatteryMINDer® units designed to maintain multiple batteries.
---
Tech Specs
Dimensions (LxWxH): 7.3 x 5.5 x 2.5 in
Weight: 3.15 lb
Shipping Weight: 4 lb
AC Input Volts: 100-240 VAC, 50-60 Hz
Max Current, During Bulk Charge: 8 A
Constant Current Charger: 2/4/8 A (User Selectable)
Model: 128CEC1
Manufacturer: BatteryMINDer/VDC Electronics
Constant Voltage: 14.1 V (GEL), 14.14 V (Wet, AGM, Sealed), 14.7 V (Odyssey, PLT)
Float Voltage: 13.05 V (GEL), 13.4 V (Wet, AGM, Sealed), 13.6 V (Odyssey, PLT)
Float Current: Variable
Temperature Compensation: -20°C / -4°F to 50°F / 122°
Output Banks: 1
Manufacturer Part #: 128CEC1
Made In: Asia
---
Customers who bought this product also bought:
---
Reviews and Ratings
---
Great product
Pros: Now whether or not the charging algorithm does chemically desulfate the battery or not is still up in the air for me (this is some seriously advanced electro-chemistry and the effectiveness is debatable). I have done some brute force desulfating with good results using an adjustable DC power supply but it requires constant monitoring. However, I have checked this bad boy out with an O-scope and it does control itself very well and produces the pulses it says it does so at least there's a good implementation of that algorithm. Time will tell if it has restored the battery completely or just topped it up temporarily.
Cons: Nothing bad so far.
Other Thoughts: Lot's of good products and information on this site. Thanks!
Written by Pihmpdaddi on Jul 27, 2016. Ownership: Use regularly. Knowledge Level: Genius is my way of life — (5 of 5 customers found this review helpful
---