view large photo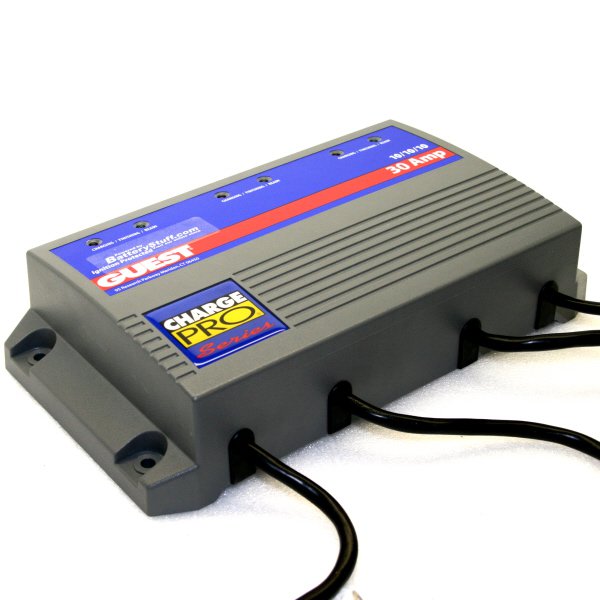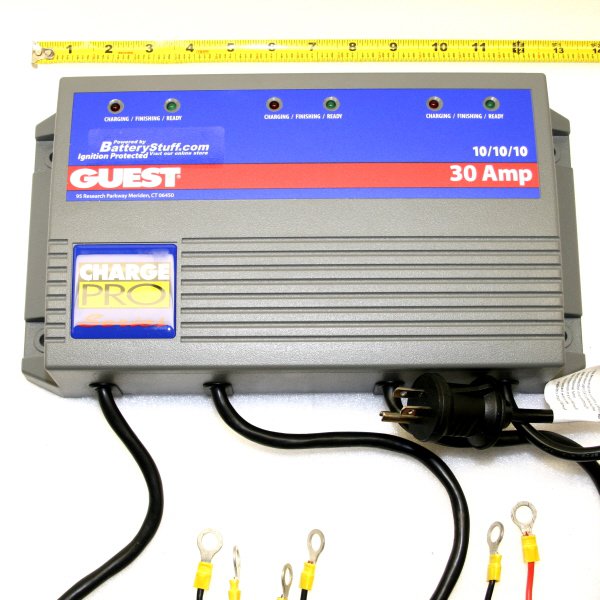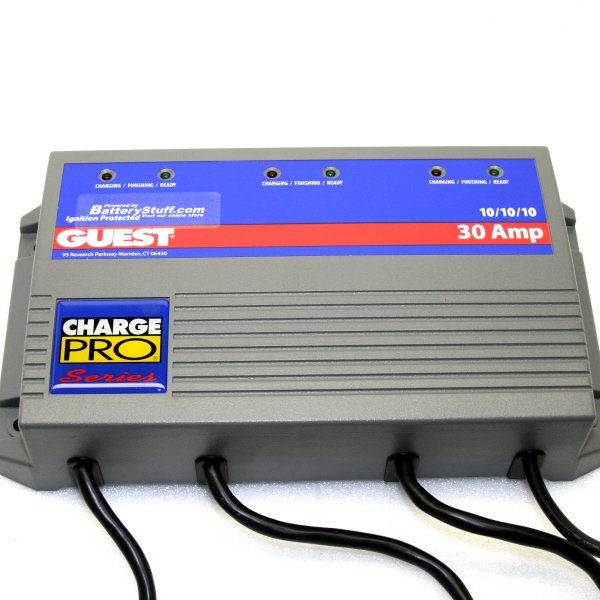 Marinco Guest 12v/24v/36v 10 Amp 3 Bank On-Board Charger GU2631A
GU2631A
This item qualities for
$7.50 Flat Rate Shipping*
Out of Stock
This Qualifies for FLAT RATE Shipping of $7.50 per order*
Rugged, waterproof design for the demanding consumer!
---
Product InformationStore Part Number: GU2631A
Overview
Guest 30 amp (10/10/10 Amp) 3-stage fully automatic electronic triple output charger is designed to recharge 3-12 V or 1-24 V & 1-12 V or 1-36 V battery system. Each battery receives a dedicated maximum 10 amps of charge current.
Recommended uses: Bulk charge of flooded, AGM, gel, and maintenance free batteries under 110 amp hours, and charge/maintenance of batteries partially discharged up to 150 amp hours. Some popular applications are marine and RV battery charging and maintenance.
Features
3-Stage switching electronic circuitry
LED Charge Status
Completely Automatic: plug it in and forget it!
Maintenance mode protects batteries during storage
Ignition Protection
Vibration and Shock protected
Fully potted to waterproof electronics
Input Cord 6'
Triple fused output 6' each
Waterproof & Easy Install
Optimal 3-Step Charging
Built-in Mode Indicators
Spark-Free Hook Up
Reverse Polarity Protection
Over Voltage Protected
Overload Protection
Line Regulation
Thermal Protection
2 Year Warranty
Comments
Suitable for True Gel Batteries * Flat Rate shipping is for the lower 48 states only.
---
Tech Specs
Dimensions (LxWxH): 13 x 7 x 2.6 in
Weight: 13 lb
Shipping Weight: 14 lb
Max Current, During Bulk Charge: 30 A
Absorption Voltage: 14.4 V
AC Input Amps: 7.5 A
AC Input Volts: 115 V
Manufacturer: Guest/Marinco
AC Input Volts Freq.: 50–60 Hz
AC Input Volts Range: 100–130 V
Float Current: Variable
Float Voltage: 13.3 V
Enclosure: Plastic Composite
Output Banks: 3
Regulatory Approval: FCC Class A EMC
Manufacturer Part #: GU2631A
Made In: Asia
---
Customers who bought this product also bought:
---
Reviews and Ratings
---
Colonel
Pros: Great price and great performance. Bought this charger after removing three separate new ProMariner 20s from my boat. Goes along with my Guest 2 bank charger for my starter and aux bateries. Works perfect.
Cons: I have had the charger only a few weeks. Too early for any cons.
Written by Jim on Jul 31, 2012. Ownership: Just Bought. Knowledge Level: AC/DC is more than a band — (79 of 156 customers found this review helpful
---
Manuals & Tutorials