view large photo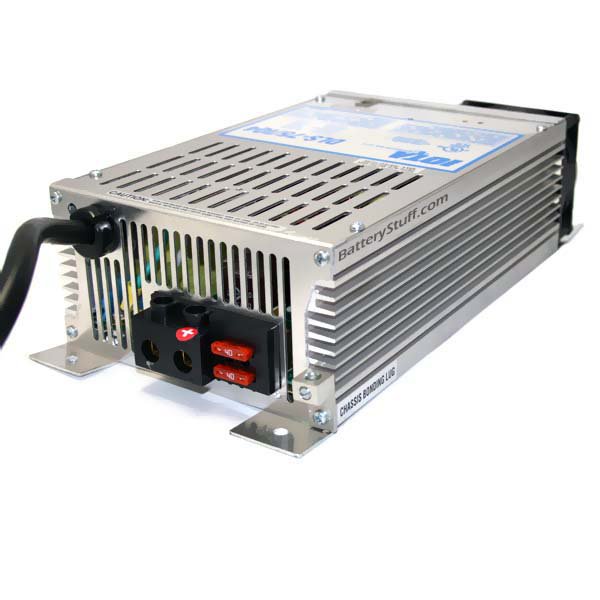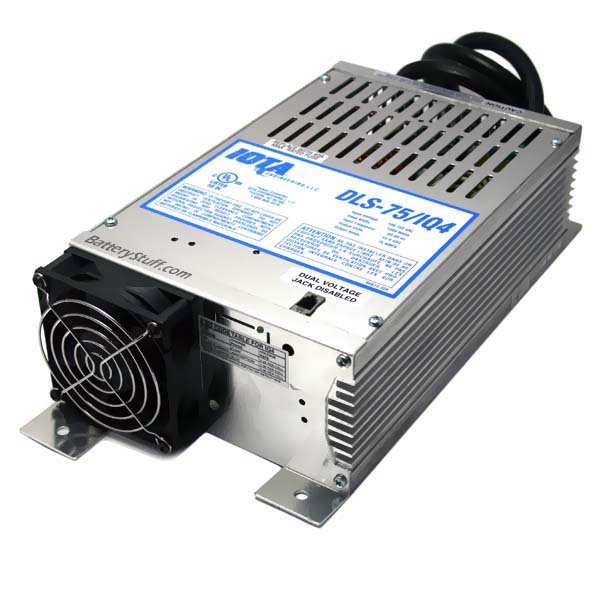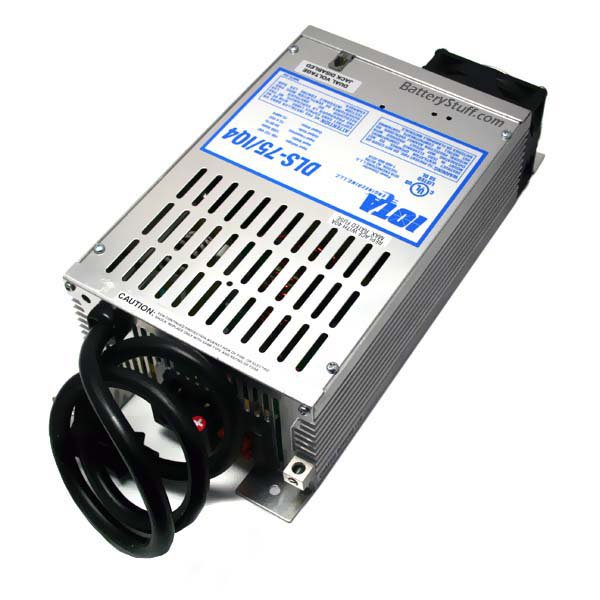 Iota 12v 75 Amp Charger Converter Power Supply IOTA-DLS1275
IOTA-DLS1275
Was: $375.00
Sale Price:

$

345.00
- No Tax
This item qualities for
$7.50 Flat Rate Shipping*
In Stock
This Qualifies for FLAT RATE Shipping of $7.50 per order*
75 amps of clean reliable battery charging power!
Requires 20 amp AC circuit.
---
Product InformationStore Part Number: IOTA-DLS1275
Overview
Using state-of-the-art switch-mode technology, the DLS Power Supply series is engineered with the user and variable environmental conditions in mind. Extra care has been given to insure many years of service-free operation, even when subjected to extremely harsh conditions. Batteries are charged quickly and efficiently without overcharging. Pumps, motors, and fans operate perfectly for prolonged life.
IOTA Engineering uses advanced switch mode technology to bring to market highly sophisticated electronic converter/power supplies at appealing affordability.
Exceptionally clean DC output insures pumps, motors, fans, and lights work perfectly. This means longer life for any connected load and virtually no AC ripple to cause static or premature failure of radio or television equipment.
The DLS series converter/charger quickly and efficiently charges batteries from the full rated output of the DLS. The DLS then maintains the batteries, only putting into the battery what is required by load or self-discharge, cutting back to milliamps as the battery requires.
Low and transient AC line voltage is a major cause of converter/power supply failure. The DLS series converter/power supply is protected against low line voltage, as well as spikes coming from the AC power source or from improperly adjusted generators.
The DLS series converter/power supply meets F.C.C. criteria, minimizing radio and television equipment interference, especially on the lower frequency bands.
The DLS series converter/power supply can be used with or without a battery. When used as a converter/power supply, the DLS model will only supply what the load requires. When not in use it is essentially off, reducing electricity usage.
Even in its subcompact size, the DLS series converter/power supply, at full load, has an operating temperature half that of some switch mode electronic models. This means substantially longer life and safer operation.
Tight line-load regulation ensures that the output voltage holds steady from no load to full load. This keeps pumps, motors, and lights working at the correct voltage even during brown out situations.
Proportional Fan Circuitry provides an extra measure of protection. During times of heavy load demands, the automatic circuitry will activate the fan before thermal stress can occur on any internal components. Reliability and durability is built into all DLS models.
In the event the batteries or the DLS unit is wired incorrectly, the DLS converter/power supply is protected from damage. External fuses can be quickly and easily replaced.
Iota DLS can be used without a battery as a straight Power Supply. Exceptional good unit for RV, remote camping sites, recharge of large DC powered audio systems and where generator power is used to power the charger. #IOTA1275
Features
Made in the United States
Iota Engineering DLS Converter/Charger quickly and efficiently charges batteries from the full rated output of the DLS. The DLS then maintains the batteries, only putting into the battery what is required by load or self-discharge, cutting back to milliamps as the battery requires. Exceptional clean DC power, input ranges 96–140 VAC 47–63 Hz. All models ship with IQ Smart 3 Stage Charge Controller.
Optimal 3 Step Charging
Demand Sensing
Reverse Polarity Protection
Over Voltage Protected
Short Circuit Protection
Overload Protection
Line Regulation
Fan Control
Thermal Protection
Output Regulation
2 Year Warranty
Comments
* Flat Rate shipping is for the lower 48 states only.
---
Tech Specs
Dimensions (LxWxH): 10 x 6.5 x 3.5 in
Weight: 7.5 lb
Shipping Weight: 10 lb
DC Output Amps: 75 A
Output Voltage Charging: 14.76 V
DC Output Voltage (No Load) approx.: 13.6 V
DC Output Voltage (Full Load) approx.: 13.4 V
Output Voltage Tolerance (No Load): +/- 0.7%
Absorption Voltage: 14.16 V
Maximum AC Current @ 108 VAC: 18.2 Amps
AC Input Volts Freq.: 47/63 Hz
Manufacturer: Iota
AC Input Volts Range: 108-132 VAC
Float Current: Variable
Float Voltage: 13.56 V
Typical Efficiency: 80%
Maximum Power Output, Continuous: 1000 W
Maximum Inrush Current, Single Cycle: 40 Amps
Working Temperature: 0° to +40° C
Storage Temperature: -20° to +80° C
Over Temperature: Off @ 80° C
Output Banks: 1
Regulatory Approval: UL Listed
Manufacturer Part #: IOTA-DLS1275
Made In: USA
---
Customers who bought this product also bought:
---
Reviews and Ratings
---
Iota 12V Converter
Pros: I recently purchased a used RV and the Iota Converter came in it. Although I didn\'t have any experience with the Iota \'Brand\' I had heard it was one of the better units available. Recently while running the generator in the RV, I thought I would check what the voltage output going to the batteries. To my surprise, it was shown as 14.8VDC on the battery posts. Since the RV has two new 6V batteries, I new the voltage readings must be good. I\'m very pleased with the Iota unit for my use.
Cons: I have not found any problems with the unit.
Other Thoughts: I Only gave the review four stars since I have not owned it for a extended period of them. However I do have a friend with the same year RV (2007) who also has the Iota Converter and it has served him well.
Written by Chris-GP on Jan 03, 2014. Ownership: Use regularly. Knowledge Level: AC/DC is more than a band — (79 of 156 customers found this review helpful
---
Manuals & Tutorials