Dual Pro 2 Bank Battery Condition Remote Panel DPri2
Price:

$

71.00
No Tax

Not In Stock
BatteryStuff Part #:
DPri2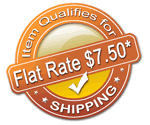 Dual Pro 2 Bank Battery Condition Remote Panel DPri2
Product Description
Dual Pro remote charge indicator. Allows you to monitor your charger as well as the condition of your batteries from a remote location such as the steering console. Now with the push of a button you can test the current status of your batteries!
Features
Comes complete with 10 ft of wire and face plate mounting screws. Drilling may be required
Review Summary

0 Average Rating

Rated

0

/

5

Stars from

0

customer reviews.

Write Your Own Review

Do you own the DPri2? Please, tell us what you think about it. It helps us provide you with better products. Please note that it may take up to 72 hours for your review to appear.

Write a review


Technical Specifications
Length
4 1/2
Width
1/2
Height
2 1/4
Weight
.5
Shipping Weight (lb.)
1
Manufacturer:
Pro Charging Systems
Manufacturer Part #:
DPri2
Made In:
USA
Instruction Manual

Download Manual
Order Line: 1-800-362-5397
M–F 6am–5pm PST

Tech Help: 541-474-4421
Fax: 541-471-6014
276 Tech Way, Suite A
Grants Pass, OR 97526