Marinco Guest AC Plug Connect Adapter Gu150cci
Price:

$

19.00
No Tax

BatteryStuff Part #:
Gu150cci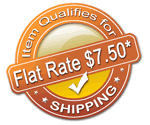 This Qualifies for FLAT RATE Shipping of $7.50 per order*
Molded tab on ChargeConnect plug locks into place with a simple snap.
Marinco Guest AC Plug Connect Adapter Gu150cci
Product Description
Use this adaptor with Guest chargers Equiped with ChargeConnect Plugs. The Guest Charge connect plug simply snaps into the recepticle, which allows for simple, sano connection. Eliminates loose AC power cord for chargers installed onboard boats, lifts and other portable devices.
Features
Eliminates Rewiring
Easy to install or Retrofit
Surface Mount or Rear Mount with locking ring.
Allows you to plug into your charger with a single extension cord, and no loose or hanging connections.
Comments
Nice clean install for a ultra professional finish. For use with GUEST CHARGE CONNECT plugs only. * Flat Rate shipping is for the lower 48 states only.
Review Summary

0 Average Rating

Rated

0

/

5

Stars from

0

customer reviews.

Write Your Own Review

Do you own the Gu150cci? Please, tell us what you think about it. It helps us provide you with better products. Please note that it may take up to 72 hours for your review to appear.

Write a review


Technical Specifications
Length
2.5 dia.
Height
2.5 deep
Weight
.3
Shipping Weight (lb.)
1
OEM Ref
150cci
Model:
150CCI
Manufacturer:
Guest/Marinco
Manufacturer Part #:
Gu150cci
Made In:
China
Order Line: 1-800-362-5397
M–F 6am–5pm PST

Tech Help: 541-474-4421
Fax: 541-471-6014
276 Tech Way, Suite A
Grants Pass, OR 97526