Mastech AC/DC Digital Volt Meter & Multimeter YDMM05
Price:

$

15.98
No Tax

BatteryStuff Part #:
YDMM05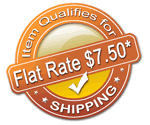 This Qualifies for FLAT RATE Shipping of $7.50 per order*
This inexpensive voltmeter has been tested by Batterystuff, and is as accurate as we have found!
Mastech AC/DC Digital Volt Meter & Multimeter YDMM05
Product Description
Digital Multimeter
Measures AC and DC volts, current, resistance (ohms), diode continuity and transistor hfe. Auto Polarization, 1/2 inch 3 digit LCD display, measures 5 × 2.5 × 1 inch, weight less than a pound and UL listed.
Can be used to check battery voltage, solar panel open circuit voltage, solar panel milliamp (amp) output, battery charger voltage output and settings, continuity in an electrical circuit, and many other uses.
Comments
A digital tester is a consumer must have, as it will be a big help in solving any electrical problems. *Flat Rate shipping is for the lower 48 states only.
Most Helpful Customer Reviews

YDMM05

By

LlaPI19

on Oct 22, 2013,

Ownership:

Use regularly,

Knowledge Level:

AC/DC is more than a band

(86 of 163 customers found this review helpful)

Pros: Well built. Large numbers make it easy to read for not so young people;Like me !

Cons: Wish it came with more easy to read instruction for people that don\\\\\\\\\\\\\\\\\\\\\\\\\\\\\\\'t have that much knowledge on how to use it.

Other Thoughts: Excellent buy, great price !!!

Review Summary

5.00 Average Rating

Rated

5.00

/

5

Stars from

1

customer reviews.

Write Your Own Review

Do you own the YDMM05? Please, tell us what you think about it. It helps us provide you with better products. Please note that it may take up to 72 hours for your review to appear.

Write a review


Technical Specifications
Length
5
Width
2.5
Height
1
Weight
1.0
Shipping Weight (lb.)
2.0
Regulatory Approval
UL Listed
Manufacturer:
Misc. Accessories & Tools
Manufacturer Part #:
YDMM05
Order Line: 1-800-362-5397
M–F 6am–5pm PST

Tech Help: 541-474-4421
Fax: 541-471-6014
276 Tech Way, Suite A
Grants Pass, OR 97526