view large photo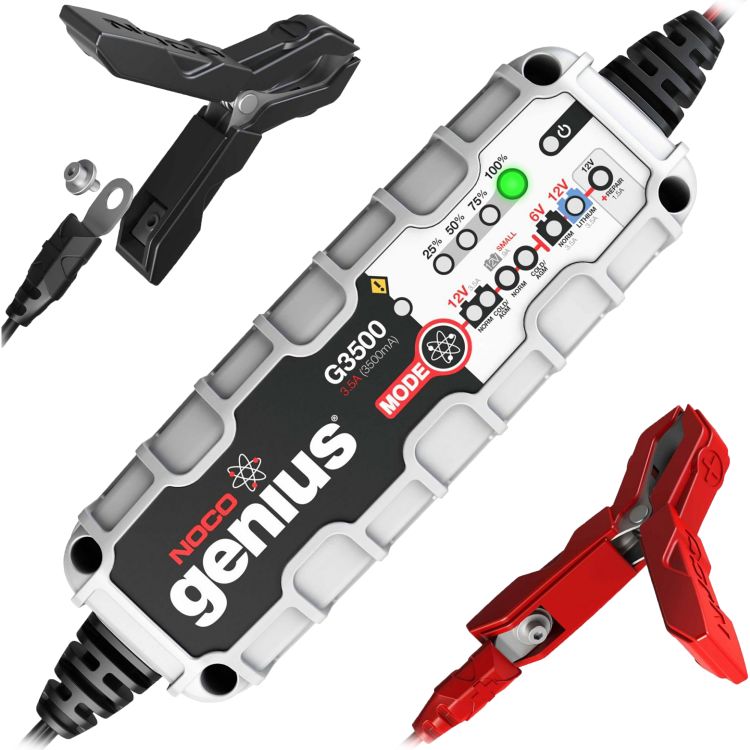 NOCO Genius 6v 12v 3500 mA Wicked Smart Battery Charger G-3500
G-3500
Was: $75.95
Sale Price:

$

59.95
Free Priority Mail Shipping to USA *
Quantity
---
OR Simple-Click Checkout
---
In Stock
---
Product InformationStore Part Number: G-3500
Overview
The G3500 is a portable and automatic battery charger. It can be used for both 6V and 12V lead-acid and lithium-ion batteries. The G3500 is designed for charging cars, boats, RVs, SUVs, diesel trucks, motorcycles, ATVs, snowmobiles, personal watercraft, lawn mowers, and much more. It can be used as a battery maintainer to keep both starter and deep-cycle batteries fully charged. It also monitors battery activity for safe and efficient charging without any overcharge. The G3500 is complete with a built-in battery desulfator in order to rejuvenate underperforming batteries.
What's in the box:
G3500 Battery Charger and Maintainer
GC001 Battery Clamps w/ Integrated Eyelets
User Guide & Warranty Information
Features
A 6V and 12V battery charger and maintainer.
Charges lead-acid and lithium-ion batteries up to 120 amp-hours.
Recovers deeply discharged batteries down to 2-volts.
Spark-proof technology and reverse polarity protection.
Built-in battery desulfator to recover worn-out batteries.
Safely monitors battery actively with zero overcharge.
Suitable for start-stop and CANbus vehicle systems.
Advanced diagnostics indication for damaged batteries.
Progressive repair mode for heavily sulfated 12V batteries.
5 year Warranty
---
Tech Specs
Dimensions (LxWxH): 7.6 x 2.7 x 1.9 in
Weight: 1.13 lbs
Shipping Weight: 3 lb
Input Voltage AC: 110-120 VAC, 50-60Hz
Working Voltage AC: 85-130 VAC, 50-60Hz
Efficiency: 85% Approx
Power Consumption: 60W Max
Low-Voltage Detection: 2V (12V), 2V (6V)
Back Current Drain: <5mA
Model: G-3500
Manufacturer: NOCO
Ambient Temperature Range: 0°C to +40°C, 32°F to +104°F
Charger Type: 8 Step, Smart Charger (Analyze, Diagnose, Recovery, Initialize, Bulk, Absorption, Optimization, Maintenance)
Output Voltage: 6V & 12V
Battery Chemistries: Wet, Gel, MF, CA, EFB, AGM, LIB
Battery Capacity: Up To 120Ah (12V), Up To 120Ah (6V)
Housing Protection: IP65
Cooling: Natural Convection
Warranty: 5 Years
Manufacturer Part #: G-3500
Made In: China
---
Customers who bought this product also bought:
---
Reviews and Ratings
---
Great Prodcut
Pros: Very easy to set up, charge indicators lights, and the unit comes with both permanent connectors and clamp-type connectors.
Cons: None
Works great to keep my summer car charged up. I used the permanent connectors, so it is easy to hook up the car to the charging unit. This way, I can easily hook/unhook the car to drive it on the occasional day in winter without having to use the clamp connectors.
Written by Anonymous on Jan 21, 2013. Ownership: Just Bought. Knowledge Level: Electricity doesn't scare me.. usually — (98 of 180 customers found this review helpful
Great selection. Fast shipping.
Pros: Compact, 3 stages, battery percentage monitor, ability to charge smaller batteries at a lower amperage, nice battery attachments.
Cons: None.
Probably going to buy another one.
Written by Mario B. on Dec 30, 2012. Ownership: I've thought about naming it.... Knowledge Level: AC/DC is more than a band — (93 of 173 customers found this review helpful
3500 charger
Pros: Fast Efficient compact and lite. I love it.
Cons: none
I may leave this one up at my camp and order another one that will charge 24 volts for the farm and my military Jeep
Written by Dutch on May 07, 2013. Ownership: Just Bought. Knowledge Level: AC/DC is more than a band — (89 of 169 customers found this review helpful
Confusing battery Campatability claims
Pros: The Unit seem GREAT and I'm happy with it and will buy this brand again ! Shipping was great also.
Cons: Conflicting Compatibility claims. My "Problem"? On the internet review it clams that "AGM" Batteries CAN be charged on this Unit. However, on page 4 (I HAVE an New Bosch AGM Platinum 12v. auto Battery ) Under 'Compatibility' it says to ONLY USE ON LEAD-ACID AND LITHIUM-ION BATTERIES OR "injury or death or damage" may occur. I intend to keep using it until I get more Information but this conflict does take a bit of the 'shine' off!
Written by Ken on Sep 26, 2015. Ownership: Just Bought. Knowledge Level: Electricity doesn't scare me.. usually — (13 of 28 customers found this review helpful
Robust but does not charge fully
Pros: Rugged housing, fused, reliable.
Cons: Does not charge batteries fully. Brand new batteries that a normal charger will take to 13+V, this charger only gets to 12.7 or 12.8V. I belong to a group that has four of these, and I own one myself; we use them every week. All of them have this problem on all batteries, including as noted completely fresh ones.
Written by ratushebarl on Sep 16, 2015. Ownership: Use regularly. Knowledge Level: AC/DC is more than a band — (4 of 7 customers found this review helpful
Everything I expected
Pros: The NOCO Genius has proven an exceptional charger/tender for my deep cycle RV Trailer battery. More importantly, the customer service provided by BatteryStuff.com in helping me select that best charger to meet my needs was second to none, not to mention a very fair price on the device.
Cons: None that I could find.
Written by Anonymous on Jan 15, 2017. Ownership: Use regularly. Knowledge Level: AC/DC is more than a band — (3 of 5 customers found this review helpful
---
Manuals & Tutorials