NOCO Genius 6v 12v 3500 mA Wicked Smart Battery Charger G-3500
Price:

$

59.95
No Tax

BatteryStuff Part #:
G-3500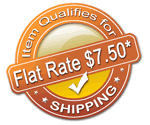 This Qualifies for FLAT RATE Shipping of $7.50 per order*
Spark Proof hookups with over/under charging protections.
NOCO Genius 6v 12v 3500 mA Wicked Smart Battery Charger G-3500
Product Description
The G-3500 Smart Charger by Noco is a 3.5 Amp battery charger designed to charge and maintain medium batteries. This is a perfect charger for cars, SUVs, boats, and trucks. Noco uses true switch mode technology in this super efficient line of chargers. This charger has a noise factor of 150 mV, less than 50 db.
This charger is a true multistage, microprocessor controlled charger that will not overcharge your batteries, ever. Also incorporated in this unit is the ability to adjust to low voltage input, which could happen if running it off a generator or a very long extension chord. This charger can operate off of as low as 85 VAC and all the way up to 130 VAC, and will withstand voltage surges up to 200 VAC.
One of the most unique features about this charger is that it is capable of charging both 6 and 12 volt batteries. It also is capable of bringing a dead 12 volt battery back from as low as 2 volts.
This charger will charge and maintain the battery in your vehicle at an ideal state using the internal microprocessor. It is a versatile battery charger that provides charging modes for both large and small batteries from 1.2-120 Ah, such as cars, RVs, boats, and trucks, as well as for motorcycles, ATVs, jet skis or snowmobiles.
Features
Advanced 5-Step Charging Profile
3.5 amps charging current
Variable Input Compensation
Rapid Charging Technology
Dual Mode for 6 and 12 volt batteries
Quick Connectors
Charges Wet, Gel, MF, Lithium, and AGM Batteries
Rated at IP60
Protects against user errors
Memory Recall
ETL approved for USA and Canada
Optimal 3 Step Charging
Built-in Mode Indicators
Spark Free Hook Up
Demand Sensing
Reverse Polarity Protection
Over Voltage Protected
Short Circuit Protection
Overload Protection
Withstand Voltage
Line Regulation
Load Regulation
Thermal Protection
Temperature Compensation
Output Regulation
5 year Warranty
Comments
* Flat Rate shipping is for the lower 48 states only.
Recommend Accessories

GC002
NOCO 12v Quick Disconnect Eyelet Terminal Connector.

GC001
NOCO Quick Disconnect Alligator Clamps - GC001

GC003
NOCO 12v Cigarette Plug Connector for G-Series Battery Chargers

GC004
Extend the reach of your NOCO Genius battery charger and accessories with the GC004 10' Extension Cable.
Review Summary

4.60 Average Rating

Rated

4.60

/

5

Stars from

5

customer reviews.

Write Your Own Review

Do you own the G-3500? Please, tell us what you think about it. It helps us provide you with better products. Please note that it may take up to 72 hours for your review to appear.

Write a review
Technical Specifications
Length
7.75
Width
2.75
Height
1.75
Weight
1.42
Shipping Weight (lb.)
2
DC Output Amps
3500 mA
Max Current, During Bulk Charge
3.5 A
DC Output Voltage
6 & 12 V
Output Voltage Charging
14.7 V
Output Voltage Maintenance
13.6 V
DC Output Voltage (Full Load) approx.
13.2 V
Output Voltage Tolerance (No Load)
.25 V
AC Input Amps
1.2 A
AC Input Volts
120 V
AC Input Volts Freq.
60 Hz
AC Input Volts Range
85-130 VAC
Max Inrush Current, Single Cycle
1.2 A
Float Current
.70 A
Float Voltage
13.6 V
Power Requirements
60 W
Maximum Power Output, Continuous
51 W
Maximum Input Current
1.2 A
Charge Reset: Battery Voltage Threshold
12.8 V
Working Temperature
10 ° to 40 °C
Storage Temperature
-10 ° to 70 °C
Ripple and Noise
150 mV, < 50 db
Enclosure
Plastic
Output Banks
1
Withstand Voltage
2000 VAC
Temperature Compensation
Yes
Recommended Use
6 and 12 volt Lead Acid Batteries 2.2 AH - 120 AH
Regulatory Approval
ETL Listed
Model:
G-3500
Manufacturer:
NOCO
Manufacturer Part #:
G-3500
Made In:
China
Instruction Manual

Download
Order Line: 1-800-362-5397
M–F 6am–5pm PST

Tech Help: 541-474-4421
Fax: 541-471-6014
276 Tech Way, Suite A
Grants Pass, OR 97526