view large photo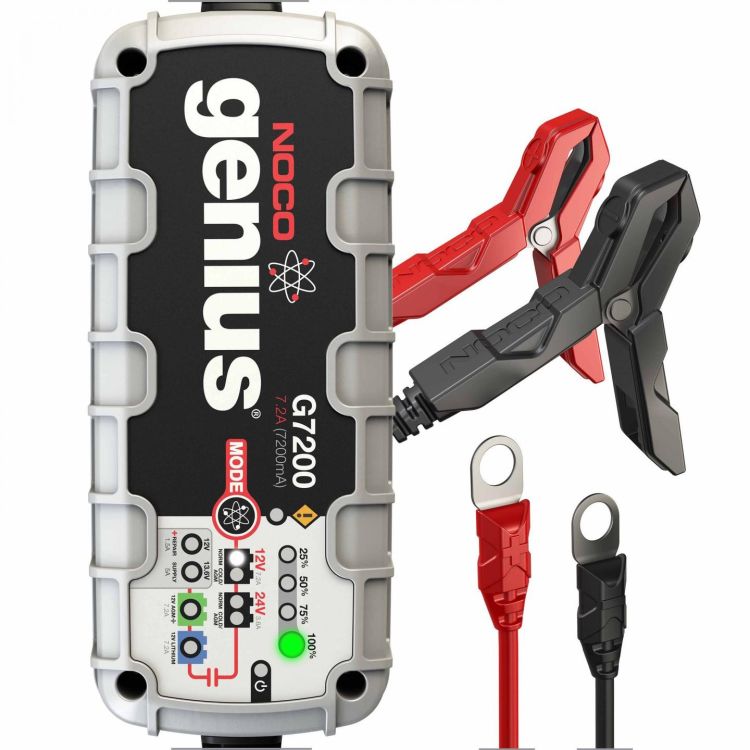 NOCO Genius 12v 24v 7200 mA Wicked Smart Battery Charger G-7200
G-7200
Was: $129.95
Sale Price:

$

99.95
Free Ground Shipping to Lower 48 States *
Quantity
---
OR Simple-Click Checkout
---
In Stock
---
Product InformationStore Part Number: G-7200
Overview
The G-7200 Smart Charger by Noco is a 7.2 Amp battery charger designed to charge and maintain small batteries. This is a perfect charger for extreme situations and equipment. Use with confidence on midsize and large vehicles including trucks and RVs. Noco uses true Switch mode technology in this super efficient line of chargers. This charger has a noise factor of 150 mV, less than 50 db.
This charger is a true multistage, microprocessor controlled charger that will not overcharge your batteries, ever. Also incorporated in this unit is the ability to adjust to low voltage input, which could happen if running it off of a generator or a very long extension cord. This charger can operate off of as low as 85 VAC and all the way up to 130 VAC, and will withstand voltage surges up to 200 VAC.
One of the most unique features about this charger is that it is capable of charging both 12 and 24 volt batteries. It also is capable of bringing a dead 12 volt battery back from as low as 2 volts.
The G-7200 charger is a fully microprocessor controlled charger that is perfect for batteries in the 14-230 amp hour ratings. It also can effectively maintain larger batteries such as RV batteries.
What's in the box:
G7200 Battery Charger and Maintainer
GC001 Battery Clamps w/ Integrated Eyelets
User Guide & Warranty Information
Features
Advanced 5-Step Charging Profile
7.2 amps charging current
Variable Input Compensation
Rapid Charging Technology
Dual Mode for 12 and 24 volt batteries
Quick Connectors
Charges AGM, Wet, Gel, MF, and Lithium (12-Volt Only) Batteries
Rated at IP60
Protects against user errors
Memory Recall
ETL approved for USA and Canada
Optimal 3 Step Charging
Built-in Mode Indicators
Spark Free Hook Up
Demand Sensing
Reverse Polarity Protection
Over Voltage Protected
Short Circuit Protection
Overload Protection
Withstand Voltage
Line Regulation
Load Regulation
Thermal Protection
Temperature Compensation
Output Regulation
5 year Warranty
Comments
Lithium setting is for charging 12-volt lithium-ion batteries, including lithium iron phosphate.
---
Tech Specs
Dimensions (LxWxH): 9 x 3.75 x 2.25 in
Weight: 2 lb
Shipping Weight: 3 lb
DC Output Amps: 7200 mA (3.6 Amps in 24-Volt)
Max Current, During Bulk Charge: 7.2 A
DC Output Voltage: 12 & 24 V
Output Voltage Charging: 14.7 V & 29.4 V
DC Output Voltage (Full Load) approx.: 13.0 V & 28 V
Output Voltage Tolerance (No Load): 0.5 V
AC Input Amps: 2
AC Input Volts: 120 V
AC Input Volts Freq.: 60 Hz
AC Input Volts Range: 85-130 VAC
Model: G-7200
Manufacturer: NOCO
Max Inrush Current, Single Cycle: 2 A
Power Requirements: 150 W
Maximum Power Output, Continuous: 106 W
Charge Reset: Battery Voltage Threshold: 12.8 V & 28.3 V
Working Temperature: 10° to 40° C
Storage Temperature: -10° to 70° C
Ripple and Noise: 150 mV, < 50 db
Enclosure: Plastic
Output Banks: 1
Withstand Voltage: 2000 VAC
Temperature Compensation: Yes
Recommended Use: 12 V & 24 V Lead-acid Batteries 14-230 AH
Regulatory Approval: ETL Listed
Manufacturer Part #: G-7200
Made In: China
---
Reviews and Ratings
---
Exceptional Product
Pros: As described the range of utility is uncommon, in my experience, for medium range batteries. More typically you would need at least two alternatives to capture the full range of applications the Genius 7200 provides.
Cons: ?????? Not weatherproof
As a sailboat owner my house battery takes a beating in deep-cycle counts. Recovery from below 10.5 volts is typical, though obviously not recommended for life cycle of the battery. The Genius works like a charm on this wet cell. When it comes to my electric mower the switch to an AGM type twin battery 24-volt system is nothing more than plugging it in and selecting for the application. If the car won't start, bingo again.

The most important maintenance tool I've bought in a long time.
Written by Hisannah on Sep 09, 2014. Ownership: When it goes, I'm giving it a eulogy. Knowledge Level: Genius is my way of life — (92 of 172 customers found this review helpful
Would buy another
Pros: Very smart with great indicators. Connect and forget. Runs nicely off Honda EX1000 generator. All weather - can get rained on.
Cons: None - even price is good
I use this to keep my RV battery topped off.
When dry camping, this keeps my RV battery charged AND covers the current draw of my heater fan and lights.
I\'d buy another in a heartbeat.
Real test will be to see how long my RV battery lasts being constantly hooked up to this charger.
Written by Paul on Dec 10, 2012. Ownership: Use regularly. Knowledge Level: AC/DC is more than a band — (90 of 169 customers found this review helpful
good product
Pros: easy to use, and a little stupid proof
Cons: haven't found any
Works very well
Written by Anonymous on Feb 25, 2014. Ownership: Use regularly. Knowledge Level: Electricity doesn't scare me.. usually — (85 of 164 customers found this review helpful
Dont change my post
Pros: These guys can save you money ! I was ready to buy 2 expensive Deep Cell Batt's to solve my problem but their customer service guy told me that was a short term solution and what I needed was this modern trickle charger that basically turns off and on when needed so it doesn't overcharge which I was initially concerned with. FURTHERMORE, it cost way less than the two battery's I was prepared to buy. He could have easily just sold me the two battery's like 90 percent of most battery companies would have, but he didn't so I have bookmarked their site, thank you BatteryStuff . COM !! All is working as stated...
Cons: Didn't find them 20 years ago !!
Reach out to the public !
Written by KK on Jan 13, 2017. Ownership: Just Bought. Knowledge Level: I know what an outlet is — (9 of 14 customers found this review helpful
Must have for car guys
Pros: Been using wheeled manual chargers for years now despite going through a few of them of different brands. They don't seem to last and they are dangerous. i.e. forgetting to turn them off and overcharging. I remember having to drive back to the shop on occasion because I didn't remember if I turned it off or not. Once, I was charging a battery in a vehicle on the show room and got busy and just forgot about it. By the time I remembered the show room smelled like sulfuric acid and I could hear the battery boiling as I walked up to it. No more worrying with this little guy. You just install it and forget it. I leave it on overnight most of the time. Whenever I have a job that will take time on a customer's vehicle I hook it up just to leave it better off than I found it. I basically look for any reason to use it.
Cons: If any...the clamps could have more spring tension.
Written by Jason on Mar 02, 2017. Ownership: Use regularly. Knowledge Level: AC/DC is more than a band — (5 of 9 customers found this review helpful
---
Manuals & Tutorials