view large photo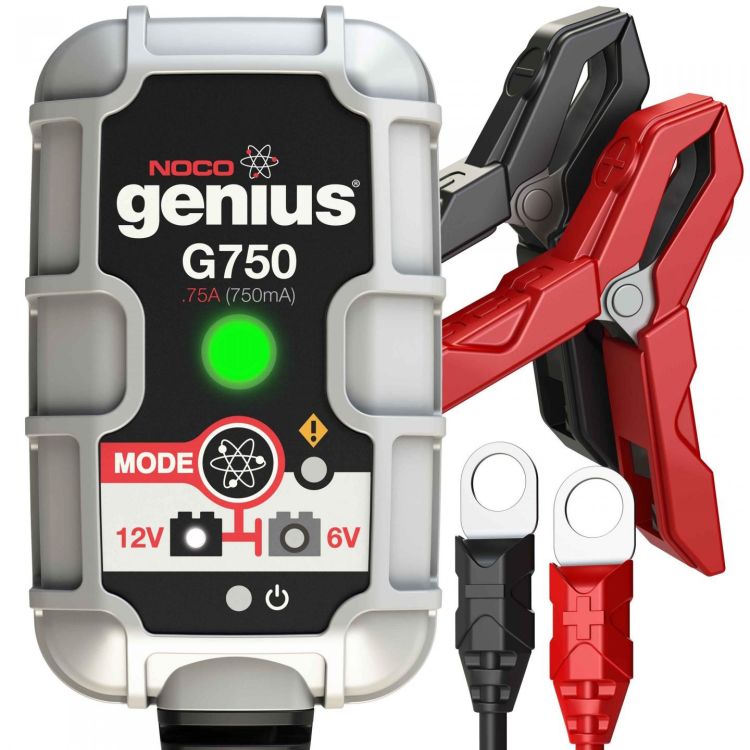 NOCO Genius 6v 12v 750 mA Wicked Smart Battery Charger G-750
G-750
Was: $37.95
Sale Price:

$

35.95
Free Priority Mail Shipping to USA *
Quantity
---
OR Simple-Click Checkout
---
In Stock
Units currently contain one GC001 Battery Clamps w/ Integrated Eyelets. Additional Battery Clamps and Eyelets available for purchase below in the related product section.
---
Product InformationStore Part Number: G-750
Overview
The G-750 Smart Charger by Noco is a 750 mA battery charger designed to charge and maintain small batteries. This is a perfect charger for motorcycles, ATVs, snowmobiles, jet skis, and any other power sport vehicle. Noco uses true switch mode technology in this super efficient line of chargers. This charger has a noise factor of 150 mV, less than 50 db.
This charger is a true multistage, microprocessor controlled charger that will not overcharge your batteries ever. Also incorporated in this unit is the ability to adjust to low voltage input, which could happen if running it off of a generator or a very long extension chord. This charger can operate off of as low as 85 VAC and all the way up to 130 VAC and will withstand voltage surges up to 200 VAC.
One of the most unique features about this charger is that it is capable of charging both 6 and 12 volt batteries. It also is capable of bringing a dead 12 volt battery back from as low as 2 volts. The G750 is best for small battery applications from 1.2–30 Ah.
What's in the box:
G750 Battery Charger and Maintainer
GC001 Battery Clamps w/ Integrated Eyelets
User Guide & Warranty Information
Features
Advanced 5-Step Charging Profile
Variable Input Compensation
750 mAh charging current
Rapid Charging Technology
Dual Mode for 6 and 12 volt batteries
Quick Connectors
Chargers Wet, Gel, MF and AGM Batteries
Rated at IP60
Protects against user errors
Memory Recall
ETL approved for USA and Canada
Optimal 3 Step Charging
Built-in Mode Indicators
Spark Free Hook Up
Demand Sensing
Reverse Polarity Protection
Over Voltage Protected
Short Circuit Protection
Overload Protection
Withstand Voltage
Line Regulation
Load Regulation
Thermal Protection
Temperature Compensation
Output Regulation
5 year Warranty
---
Tech Specs
Dimensions (LxWxH): 4 1⁄2 x 2 3⁄4 x 2 1⁄4 in
Weight: 0.78 lb
Shipping Weight: 2 lb
DC Output Amps: 750 mA
Maximum Charging Current: 0.75 A
DC Output Voltage: 6 V & 12 V
Output Voltage Charging: 14.4 V
Output Voltage Maintenance: 13.6 V
DC Output Voltage (Full Load) approx.: 13.0 V
Output Voltage Tolerance (No Load): 0.25 V
Absorption Voltage: 14.4 V
AC Input Amps: 0.3 A
AC Input Volts: 120 V
AC Input Volts Freq.: 60 Hz
Model: G-750
Manufacturer: NOCO
AC Input Volts Range: 85–130 VAC
Float Voltage: 13.6 V
Power Requirements: 20 W
Maximum Power Output, Continuous: 11 W
Charge Reset: Battery Voltage Threshold: 12.8 V
Working Temperature: 10°–40° C
Storage Temperature: -10°–70° C
Ripple and Noise: 150 mV, < 50 db
Enclosure: Plastic
Withstand Voltage: 2,000 VAC
Temperature Compensation: Yes
Recommended Use: 6 and 12 volt Lead Acid Batteries 1.2 AH–30 AH
Regulatory Approval: ETL Listed
Manufacturer Part #: G-750
Made In: China
---
Customers who bought this product also bought:
---
Reviews and Ratings
---
bi voltage charger
Pros: A charger that does two voltages 6v and 12v, choice of connections, small size and readable directions makes this product a winner.
Cons: na
na
Written by Anonymous on Nov 11, 2011. Ownership: Use regularly. Knowledge Level: AC/DC is more than a band — (123 of 236 customers found this review helpful
Battery charger
Pros: Well made and works as advertised
Cons: No handle. This would be a great addition for tight places, which we have.
Written by Jeff on Oct 14, 2014. Ownership: Just Bought. Knowledge Level: Electricity doesn't scare me.. usually — (111 of 216 customers found this review helpful
What I needed in a small charger
Pros: Seems reliable, charges extremely discharged batts back to life when possible.
Cons: Doesn't get the 6V's up quite as high at full charge as my other chargers - avg volts run 6.4 @ full/maintenance charge.
Written by Anonymous on Feb 16, 2013. Ownership: Use regularly. Knowledge Level: AC/DC is more than a band — (118 of 222 customers found this review helpful
srikanth
Pros: 100
Cons: 100
100
Written by srikanth on Feb 21, 2015. Ownership: Use regularly. Knowledge Level: I know nothing — (31 of 76 customers found this review helpful
Bargain maintenance
Pros: My Ford 9N tractor has a disconnected generator so I need to charge the battery after use. The tractor is primarily used for gravel road maintenance and snow removal. The Genius has been a great investment for maintaining this 6 Volt system. I might see a few additional years before the need to replace the battery.
Cons: None
Written by Mick on Mar 17, 2016. Ownership: Use regularly. Knowledge Level: AC/DC is more than a band — (29 of 59 customers found this review helpful
NOCO G-750
Pros: Lots of good things, like everyone else. I like the memory feature. Plug it back in and it remembers the voltage settings. Like the small size, easy to use etc. EXCEPT....
Cons: It creates more Radio Frequency Interference than you can shake a filter at. Totally made one radio in the 150MHz range unusable. The only time I can charge the battery is when that radio is turned off.
Written by Anonymous on Dec 05, 2014. Ownership: Just Bought. Knowledge Level: AC/DC is more than a band — (39 of 68 customers found this review helpful
Didn't last too long
Pros: Bi-Voltage Sounded like a good idea
Cons: Died after about a year Proprietary connection unlike most others
I use a lot of battery chargers (4-wheelers, jet skis, etc.) mostly Battery Tender's, but I've tried a couple of NOCO's. I've had 2 NOCO's with issues : After starting they will go into an error mode with flashing lights and then stop charging. This one was doing that and then died. Not that I've never had a problem with a Battery Tender, but I've got a lot more of them!
Written by Dr. G. on May 01, 2017. Ownership: Use regularly. Knowledge Level: AC/DC is more than a band — (30 of 59 customers found this review helpful
Nice unit, but no SAE adapter in the box
Just got this unit from Battery Stuff (love the fast delivery) and it seems to be well made and is doing the job on a motorcycle battery. It is annoying however that it DOES NOT include an SAE adapter (like what is on all my motorcycles) in the box. So I have to buy one for an extra $10. This should be stated clearly up front in the product listing.
Written by Brian on Mar 12, 2019. Verified Purchase — (27 of 54 customers found this review helpful
Good equipment
The charger has exceeded all my expections.
Could not have made a better purchase.
The price was right.
Written by Emmel on Aug 16, 2019. Verified Purchase
---
Manuals & Tutorials