Samlex 12/24 Volt 40 Amp Battery Guard BG-40
Price:

$

76.34
No Tax

BatteryStuff Part #:
BG-40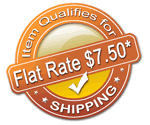 This Qualifies for FLAT RATE Shipping of $7.50 per order*
Protects your battery from excessive discharge, thus allowing longer battery life. For up to 40 amp loads.
Samlex 12/24 Volt 40 Amp Battery Guard BG-40
Product Description
The universal programmable Battery Guard (BG) prevents the excessive discharge of the battery (which would damage the battery) and protects electronic appliances against overvoltage. The BG40 battery guard has an "Automatic Board System Detection"; the BG automatically detects the battery voltage (12 or 24V). The BG40 battery guard is capable of carrying 40A continuous load and 45A transient load. There is a choice out of 10 on/off threshold voltage programs, for both 12V and 24V battery systems, which can be easily programmed.

The new Battery Guard BG40/60/200 (hereafter called BG) is an intelligent, watertight,
Battery Guard with accessory connections to accommodate a ON/OFF switch, Alarm buzzer or relay and our Current Watch current sensor (not included).

The unit has two bolts as connection for the "Input+" and the "Output+" to guarantee low
losses. Other connections, like the minus and the accessories, are made by a 4-pole 6.3mm faston connector. A blue LED shows the status (ON/OFF). In program-mode it shows the program position.

There is a choice out of 10 on/off threshold voltage programs, for both 12V and 24V Battery Systems, which can be easily programmed. The BG uses very little current. In the OFF mode or when in under voltage the BG uses just 2mA or less.
Features
Fully programmable
The BG battery guard is microprocessor controlled and can be programmed to engage/
disengage at ten different voltage levels for both 12 & 24V Battery Systems.
Overvoltage protection: To prevent damage to your sensitive loads due too overvoltage, the load is disconnected whenever the DC-voltage exceeds 16V or 32V.
Ignition proof: The unit has no relay but MOSFET switches, and therefore no sparks.
Alarm output:The alarm output is activated if the battery drops below the preset disconnect level for more than 12 seconds. Starting the engine, genset or batterycharger will therefore not activate the alarm. The alarm output is an open collector output to the negative (minus) rail (max.current 500mA). The alarm can typically be used to activate a buzzer and/or lamp.
Load disconnect: Only 1 minute after the alarm has been activated the load will be disconnected, but if the battery voltage increases to the connect threshold within this minute (after the engine, genset or batterycharger has been started for example) the load will not be disconnected.
Comments
* Flat Rate shipping is for the lower 48 states only.
Prevents excessive discharge of batteries. Ideal for:
Marine
Automotive
Recreational
Most Helpful Customer Reviews

Works. Mostly built to last.

By

Tom

on Oct 13, 2015,

Ownership:

Use regularly,

Knowledge Level:

AC/DC is more than a band

Pros: Small. Solid state. Sealed in epoxy. The two main terminals should last forever. Acts also as a solid state relay using the low-current on/off terminal. Built quality looks excellent.

Cons: Minor gripes only: None of the programmable voltage range options quite match my desires, but one or two come close. The clip-on low-current terminals don't look as robust and the rest of the unit, but we'll see. I'll up the rating to five stars if still working after five very humid years.

Other Thoughts: Be sure to count the light flashes carefully after programming, because you might be one or two off. Easy and fast to correct.

Review Summary

4.00 Average Rating

Rated

4.00

/

5

Stars from

1

customer reviews.

Write Your Own Review

Do you own the BG-40? Please, tell us what you think about it. It helps us provide you with better products. Please note that it may take up to 72 hours for your review to appear.

Write a review
Technical Specifications
Length
3.2
Width
2.4
Height
1.6
Weight
.5
Shipping Weight (lb.)
1
DC Output Voltage (No Load) approx.
adjustable 12-24v
Model:
BG-40
Manufacturer:
Samlex
Manufacturer Part #:
BG-40
Made In:
The Netherlands
Instruction Manual

Download Manual

Download Specification Sheet
Order Line: 1-800-362-5397
M–F 6am–5pm PST

Tech Help: 541-474-4421
Fax: 541-471-6014
276 Tech Way, Suite A
Grants Pass, OR 97526