Quick Power 200 Amp Battery Isolator - Bi303306
Price:

$

65.00
No Tax

BatteryStuff Part #:
Bi303306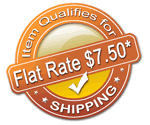 This Qualifies for FLAT RATE Shipping of $7.50 per order*
Run extra accessories without worry of your vehicle not starting!
Quick Power 200 Amp Battery Isolator - Bi303306
Product Description
Battery Isolator switch for up to 200 Amp alternators conveniently allows for adding a spare battery to run accessories in your car, boat or RV. This fully automatic switch allows for your engine alternator or aux battery charger to charge 2 batteries, while keeping the batteries electrically isolated from each other. This means that you can run your spare battery down, without worry of running down your starting battery.
This waterproof unit will work in a marine environment, as well as stand up to extreme heat. The Battery Isolator switch will prevent current flow from one battery to another, thus allowing each battery to be an independent power source
Features
Ideal for marine, RV, automotive, and commercial applications
Allows for simultaneous battery charging of a multiple battery system
Isolates batteries to insure power to start your vehicle
Reliable solid-state circuitry
Sealed to protect against oil, gas, salt, water, and harsh environments
Temperature range -40ºF to 250ºF (-40ºC to 121ºC)
Use with multiple battery charging systems
For wet cell or gel cell batteries, all batteries must be same type to prevent damage
1 year warranty
Comments
* Flat Rate shipping is for the lower 48 states only.
Make sure your batteries are of same design. If battery types are mixed, you may damage one or both.
Review Summary

0 Average Rating

Rated

0

/

5

Stars from

0

customer reviews.

Write Your Own Review

Do you own the Bi303306? Please, tell us what you think about it. It helps us provide you with better products. Please note that it may take up to 72 hours for your review to appear.

Write a review


Technical Specifications
Length
11"
Width
4 15/32"
Height
2 7/16"
Height w/ Stud
3 5/16"
Weight
4.07 lbs
Shipping Weight (lb.)
6
Output Amperage, Max Continuous
200 amps
Enclosure
extruded aluminum
Model:
Bi303306
Manufacturer:
Quick Cable
Manufacturer Part #:
Bi303306
Made In:
Asia
Order Line: 1-800-362-5397
M–F 6am–5pm PST

Tech Help: 541-474-4421
Fax: 541-471-6014
276 Tech Way, Suite A
Grants Pass, OR 97526