view large photo
PriorityStart! 12v ProMax Low Voltage Disconnect Switch - PSI-12V-PROMAX
PSI-12V-PROMAX
Free Priority Mail Shipping to USA *
Quantity
---
OR Simple-Click Checkout
---
In Stock
---
Product InformationStore Part Number: PSI-12V-PROMAX
Overview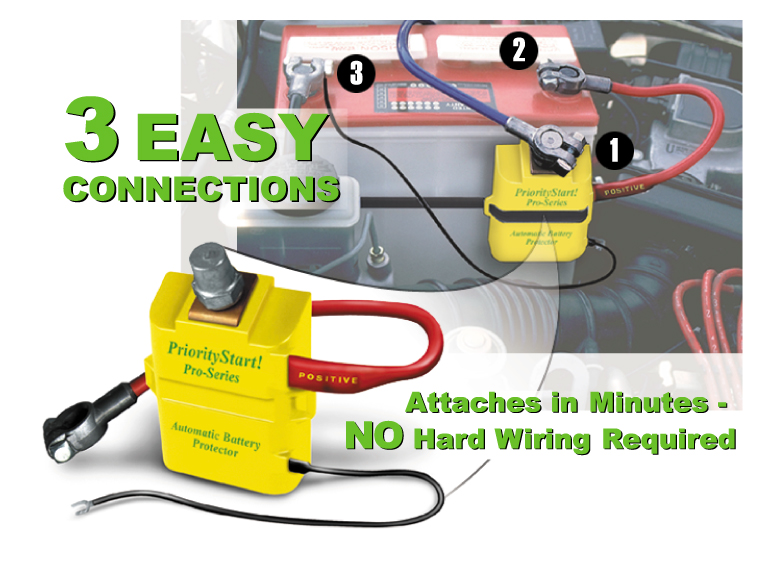 PriorityStart! is an automatic computerized on/off switching system protecting battery voltage and starting power. If battery voltage drains below 11.7 volts when engine is off, it automatically DISCONNECTS the load. The battery voltage immediately recovers.
To RECONNECT and START the vehicle: Just step on the brake pedal, activate the headlights, or use another accessory inside the vehicle, and starting power is automatically RECONNECTED! NO DEAD BATTERY! Designed to handle 1000 starting amps.
No hard wiring or modifications. Transferable. Manufactured to ISO, USCG, and SAE standards. Maintenance free.
Universal design on PriorityStart! works with 12-Volt top and side-post batteries. Same unit: Easily adaptable! No modifications are necessary.
Features
ProMax specially designed for all OEM or stock vehicles. Now new circuits give voltage surge "spike" protection.
Easy to attach–3 Connections
Maximizes Battery Life–Maintenance Free
Handles 1,000 Starting Amps
Engine Run & Hazard Light Protection
Universal Design Fits Both Top-Post or Side-Post Batteries
Comments
*Flat Rate shipping is for the lower 48 states only.
---
Tech Specs
Weight: 1.5 lb
Shipping Weight: 2.0 lb
Model: PSI-12V-PROMAX
Manufacturer: BLI/Priority Start
Regulatory Approval: Certified to SAE J1171, ISO 8846, CE, USCG Certified
Manufacturer Part #: PSI-12V-PROMAX
Made In: USA
---
Customers who bought this product also bought:
---
Reviews and Ratings
---
Saves aggravation
I installed one of these on a friend's rarely driven Cadillac several years ago. Finally spent the money and put one on my occasionally driven Jaguar. Works great and much better than having to start the car every week to keep battery charged, or disconnecting and reconnecting battery. Easy install, delivered on time. Pricey but worth it for lazy guy like me.
Written by
Mark
on Aug 05, 2020.
Verified Purchase
— (3 of 3 customers found this review helpful
---
Manuals & Tutorials