view large photo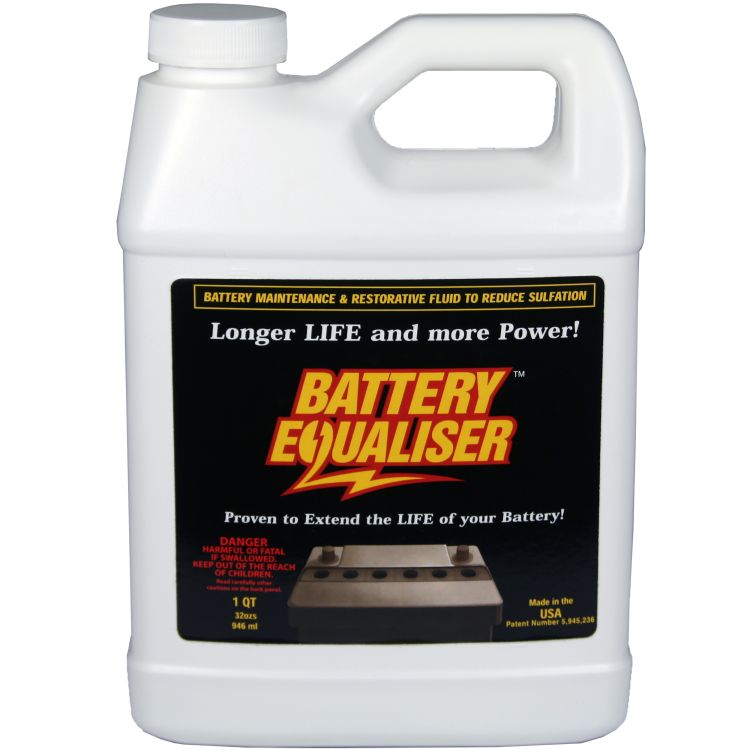 Battery Equaliser 32 Ounce BE32oz
BE32OZ
Free Ground Shipping to Lower 48 States *
Quantity
---
OR Simple-Click Checkout
---
In Stock
Product must travel via Ground with an Estimated 2-6 Business Days.
---
Product InformationStore Part Number: BE32OZ
Overview
The Problem ~ Internal Resistance & Sulfation
Lead acid batteries have changed very little in 70 years. From the initial application of the electrolyte, sulfation begins coating the lead plates causing internal resistance. Aging batteries lose overall performance and require increased maintenance (more water) and charging time. Sulfation will eventually choke out any electrical activity. Stored and inactive batteries accelerate the problem of sulfation, leading to REDUCED BATTERY LIFE.
#BE32OZ
The Solution ~ Reduces Resistance & Sulfation
A small amount of Battery Equaliser to each cell will mix with the existing electrolyte solution. The improved battery chemistry will dissolve existing sulfation and prevent new deposits from forming for years to come. Batteries will charge faster, hold a charge longer, reduce terminal corrosion and reduce gassing (water consumption). Follow normal battery maintenance and DOUBLE BATTERY LIFE WITH ONLY ONE TREATMENT
To use in: Cars, Trucks, Boats, RVs, and Forklifts.
Features
Dosage Formula Usage Chart
12 Volt Car Battery 1/2 oz. per cell
12 Volt Deep Cycle Battery 1 oz. per cell
6 Volt Car Battery 1 oz. per cell
6 Volt Golf Cart Battery 2 oz. per cell
12 Volt Large Truck Battery 2 oz, per cell (8HD or 8D)
24-36-48 Volt Forklift Battery 3 1/2 oz. per cell
STN & 6TL Batteries For Military Use 1 oz. per cell
Comments
*Available within the Lower 48 United States and Canada only.
---
Tech Specs
Weight: 2.0 lb
Model: BE32OZ
Manufacturer: Battery Equaliser
Shipping Weight (lb.): 3.0
Manufacturer Part #: BE32OZ
Made In: USA
---
Customers who bought this product also bought:
---
Reviews and Ratings
---
stuff works
Pros: have been looking for this. bought it and transaction was straightforward. i have used it in four batteries, and one for rejuvination of a bad cell. it works as described. i will continue to use it and will purchase more in the future
Cons: none
used in deep cycle batteries for my boat.
Written by big boat guy on Dec 25, 2011. Ownership: I've thought about naming it.... Knowledge Level: AC/DC is more than a band — (104 of 188 customers found this review helpful
No luck yet
Pros: Easy
Cons: no luck with battery
I have not had luck with it in the batteries I tried but they may have been to far gone. I will have to wait for more batteries to try it on
Written by Anonymous on Jun 15, 2016. Ownership: Just Bought. Knowledge Level: Electricity doesn't scare me.. usually — (8 of 11 customers found this review helpful
Battery Equaliser
Pros: Easy to use, Just poor it in.
Cons: Had to find something to measure it with, Shot glass seemed to work fine.
So far it seems to be working great, Saved me several hundred dollars on batteries for awhile, We will see how long it last.
Written by Casper on Aug 10, 2016. Ownership: Just Bought. Knowledge Level: AC/DC is more than a band — (8 of 10 customers found this review helpful
GREAT STUFF
Have used it for years and batteries always far exceed their rated life. Well worth the price. Originally found it at Academy Sports & Outdoors but they no longer carry it. Can only find on the Internet these days. Needs more publicity IMHO!
Written by Theodore on May 21, 2019. Verified Purchase
Great stuff
I use this in my golf cart to maintain the batteries, and make them last longer. So far they have lasted twice as long as the original seller told me they would. I am starting to use it in my car batteries, they seem to be lasting longer also, but I can't say for sure how much longer. Like it.
Written by Anonymous on May 11, 2019. Verified Purchase
Golf cart batteries are now 10 years old and still good
Bought this about 5 years ago and added to my older batteries. Use the utility cart year round even in -35 deg. Batteries are now 10 years old and still holding a good charge. Buying again for my gator.
Written by Scott on Mar 25, 2019. Verified Purchase
---
Manuals & Tutorials